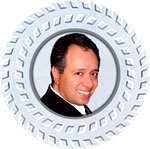 Meir's Muses
MyMagic eNewsletter #850
July 25, 2020
FIRST: I am continuing to ship your orders on a daily basis. Thank you for your continued support.
If you liked Terry Broshears' Hot Rod Knives (which sold-out) you will love his color changing knife sets. They are made using the same type of Doctor's knives. They also come in different colors: Blue, Red, Orange and a Stripped Blue sets.
Each set comes with one Color Changing Knife and a matching regular knife so you can perform many of the known and popular routines.

Every Knife purchase will also receive a FREE download of Michael Skinner performing and teaching his Color Changing Knife Routine.

Take a look and buy: HERE

By the way, it has been a while since I mentioned this, but I am the publisher of what many consider to be the best book on the subject of color changing knives. It is Ascanio's World Of Knives.

Take a look: HERE

Wish Printer:
Last week the response to the electronic Money Makers was excellent and I sold out pretty quickly. I will be getting another shipment on Tuesday and am told that it will be several months before I get more. If you wanted to get one, please sign up for notifications and you will be immediately notified when they arrive.

Take a look: HERE
Appearing & Vanishing Wand:
If you ever wanted to produce a 14-inch black magic wand with white tips at a moment's notice this is your chance.

This is a very inexpensive wand manufactured in a similar style to Fantasio's appearing candles. There are no solid tips so you can just as easily collapse it by pushing at one or both ends. It collapses to around two-and-a-quarter inches so it can fit into your pocket.

Watch  & buy: HERE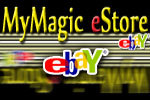 Ebay:
This is your last reminder about the 80 eBay auctions I have expiring on Sunday night. Most of this stuff is more than 50 years old and all of the slum magic came from Danny Tsukalas' Magic Counter at Macy's in NYC.

►A direct link to the 80 auction items: HERE
►Visit the entire MyMagic eBay store: HERE

Stay safe, Meir

PS: I have been putting in long hours for the past few months at revamping a new incarnation of MagicTimes. Take a sneak peek: HERE
FUSION COINS
MORE INFO & BUY: HERE

Two coins are examined by your friends (a Quarter and a Penny) as you explain the different metals they are made of.

You then place the Penny on top of the Quarter and after a little squeeze the penny sinks into the quarter and is fused inside. The odd new coin can then be examined.

You pick up the coin, give it a little shake and the penny falls out leaving everything examinable and ordinary.
STRETCHING QUEEN
MORE INFO & BUY: HERE

This is a beautifully clean handling of Peter Kane's brilliant Elongated Lady effect.

You begin by removing three cards from your deck. The Queen of Hearts and the two black nines. All the cards are cleanly shown as you place the Queen face up between the two face down nines. In an eerie visual the Queen begins to stretch to one-and-a-half times its length for an impossible visual.

The Queen is then shrunk back to its normal size and all three cards are cleanly shown on both sides. The Queen can then be given out as a souvenir.
RUBINSTEIN RATTLE PURSE
MORE INFO & BUY: HERE

This is a very special coin purse that is hand-made in Italy using fine Italian leather and contains real coins inside a hidden compartment that are used to create a perfect jingling sound when the purse is shaken… even when it is empty.

The purse is used to add an audible element to your coin magic. Simple things like shaking the purse after pretending to put coins inside, solidifies the fact that the coins must be inside because you can hear them inside. The same sound can be used to prove the arrival of vanished coins before any sneaky stuff is done.
CAPITULATING QUEENS
MORE INFO & BUY: HERE

This routine has often been referred to as one of the best packet tricks. It has more visual impossibilities than most in its genre.

You cleanly show four queens, explaining that one of them is very special. The first three Queens that are selected are shown to have different colored backs.

The last Queen is cleanly shown to have a blue back as you explain it too is special. The cards are shown again and now they all have red backs except for the last Queen.

As a finale the four Queens are shown to have four different back designs and colors and they can even be handed for examination.