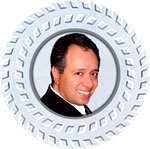 Meir's Muses
MyMagic eNewsletter #881
November 18, 2020
Just finished putting together Dr. Michael Rubinstein's second video download. It is a video of a live lecture he did in 2004. When both videos were originally released as DVDs, this video got better reviews that the 1986 video I released a couple of weeks ago, although both got good reviews. I personally liked the 1986 lecture better (Take a look: HERE ) but I am not really a coin guy. If you are enjoying his new book (HERE) and would like to see him perform and teach some of the stuff, this is a good investment. There are also some routines and moves that did not make it in the book.
More Creative Coin Magic:
Dr. Michael Rubinstein is considered one of the best coin magicians and creators in the business. This video was recorded in Pennsylvania in 2004 during a live lecture where he performed and explained some of his best routines.

He performs a show featuring: Triple Play, Crazy Coins Across, Stand Up Coins Through The Table, Silver Lint 4, and Stand-Up Sucker Copper-Silver Routine.

He then presents a lecture where he teaches: Stand-Up Sucker Copper-Silver Routine, Triple Play, Stand Up Coins Through The Table, Retro Fly, Silver Lint 4, The Chocolate Coin, and Merlini Purse Routine. Along the way you will learn a ton of coin techniques.

Watch and buy: HERE
Leather Coin Purse:
This is a black leather coin purse that is similar to what magicians refer to as the Japanese design. It is around 2.5×2.25 inches and can easily hold coins as large as US dollars.

This design is a standard among coin magicians since they are slick looking as opposed to the versions with the visible clasps. Another nice touch is that the metal clasp is made of steel and is attracted to magnets and can be used as a holdout.

This purse is so inexpensive I started using them to house my gaffed coin sets instead of ziplock bags.

Get one, or nine: HERE

There has been a surge of Max Maven's Jumbo B'Wave lately. Not sure why, but I assume that people discovered that it is a beautiful routine for video-based shows and a perfect interactive, stand-up routine without physical interaction.
Jumbo B'Wave:
Max Maven created a sensation when he released his original "B'Wave." Practically every magician on the planet owns one, carries it and uses it. Since that time many have created variations, but this classic version has stood the test of time and is still the best.

You display four Jumbo blue-backed cards (said to be four queens). A spectator selects one of the queens. The named queen is shown to be the only one that is face up. It is also the only one with a red back. To everyone's amazement the other three cards are shown to be blank.

The cards supplied are the traditional Jumbo size and are suitable for both close-up and stage. Great for emcees, mentalists, magicians, children's entertainers, well just about everyone! Available in Black Queens and Red Queens.

Watch and buy: HERE
Ran out of the stuff that was in the last newsletter but decided to invest in a replenishment and ordered more using next day shipping. If you missed out, here are a few more. To find out more about them read the last newsletter: HERE

►Get the Tenyo Four Nightmares DX: HERE
►Get the Origami Rabbit: HERE

Was also able to replenish the following:
►Haunted Key Deluxe: HERE
►Longitudinal Axis Penetration: HERE

eBay:
Collectible slum magic and cards at auction will expire on Sunday Night.

23 Auctions ending on Sunday: HERE
243 Collectibles in the store: HERE
FREE Bat Quarters:
Wanted to remind you that I am continuing to include a free bat quarter with every shippable order and an additional quarter for every $100 spent. Promo info: HERE

Stay safe, Meir

PS: I am almost done editing the Houdini Wand Ceremony video and expect to have it go live tomorrow at: MagicTimes.com
GIGANTIC COMEDY PREDICTION
MORE INFO & BUY: HERE

This is an ideal stand-up routine with intrinsic situational comedy. Even if you are not a comedian the situational comedy that is built into the routine will always get you laughs. But not just laughs… The magic is strong and there is even a duel reality ending where the spectator and the audience experience two different effects and both are impactful!

Comes complete with a Gigantic Prediction Card (10.5" x 15") that is transformational, a set of Jumbo Forcing Cards (5" x 7"), and access to a 30-minute video tutorial featuring Meir Yedid, Jim Spinnato, Rick Wilcox, and George Schindler.
CARD SILK SET
MORE INFO & BUY: HERE

There are many routines published, recorded, and marketed using card silks. A card silk is a silk scarf with a picture of a playing card on it.

Of the many published routines, the most engaging are the ones that use two silks. One with a blank card pictured and one with a playing card. This two-silk set allows you to present sucker like routines with you missing and then making good. It is also an excuse to magically change one silk into another.

Our silk set which is ideal for Thumb Tip use includes two 9-inch silks: A full-color blank card and a full-color King of Hearts card.