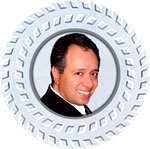 Meir's Muses
MyMagic eNewsletter #884
December 2, 2020
I had the opportunity recently to pick up some licensed Rubik cube products that have been discontinued. The first one is below but the one I really like will be offered in a couple of weeks. I think that its ideal use would be for the routines used with the vanishing rubber bottles. My favorite of those routines is Rich Marotta's Best Trick and Bride Of Best Trick routines which are available as a download: HERE

I also have a few vintage Japanese Coin slides available for sale. They are around 60+ years old and are extremely limited in quantity.

I received many positive comments on my appearance on the Magic Collectors Corner on Sunday and the show is now archived for you to see at your leisure.
Squishy Cube:
This is a realistic looking Rubik Cube made of foam. It is made of a special soft and slow rising foam.

It can be used as a gag to toss into the audience to select spectators or it can be used for many of the tricks and routines that use vanishing rubber bottles.

Watch and buy: HERE
Coin Slide:
This is an original vanishing coin slide made of wood and manufactured in Japan around the 1950s or 1960s. It has been in storage since the late 1960s and is part of the inventory from Danny's Magic Counter that was inside Macy's in New York City.

The basic effect starts out by showing a wooden drawer box and sliding out the drawer which is seen to have a round circle cut out in the center, large enough for a coin. You place a coin into the opening and push it back into the box. When the drawer is pulled out again the coin has vanished. The same motions can be used to make a coin appear or to even switch one for another, like turning a Penny into a Quarter.

Watch and buy: HERE
Collectors Corner:
I hope many of you got a chance to see the Tannen edition of the weekly show and were surprised by the secret I wasn't allowed to share.

The secret was that the show was live from David Copperfield's recreation of the Tannen store at his museum and that he acted as the co-host for the entire 2.5+ hour event. And he even demonstrated two tricks that many of us own.

The show is archived on facebook and you can watch it and the 32 previous episodes for free once you join the facebook group. The Tannen segment starts at around 45 minutes and a direct link to the video is: HERE

Back In Stock:
►Leather Coin Purse: HERE

Stay safe, Meir

PS: I keep adding content to MagicTimes. I think you might enjoy seeing this TV appearance from 2017 where I am not identified as a magician: HERE
SMILEYS
MORE INFO & BUY: HERE

You start by explaining that there is an old expression that "people wear their emotions on their sleeve", but magicians wear their emotions on their coins!

You draw a sad face on the face of a half dollar and then… to make the coin feel better you tickle the coin, and it begins smiling when the sad face changes to a happy one! Another tickle, and the coin changes to a yellow smiley face! One last tickle, and the smiley face becomes a big smiley face, bringing a big smile to everyone.
GIGANTIC COMEDY PREDICTION
MORE INFO & BUY: HERE

This is an ideal stand-up routine with intrinsic situational comedy. Even if you are not a comedian the situational comedy that is built into the routine will always get you laughs. But not just laughs… The magic is strong and there is even a duel reality ending where the spectator and the audience experience two different effects and both are impactful!