Meir's Muses
MyMagic eNewsletter #1,026
July 13, 2022
In January Gene Protas showed me a 3D printed magic trick he was working on with Martin Cox and asked if I would be interested in offering it to you. I said yes because it made me laugh when the prediction card turned out to be blank. I made a trailer for it, so you know exactly what it is.
I also received another shipment of the stuff that kept selling out in recent weeks. See below.
►As It Stands:
You get two plastic stands that can be used to hold/display a prediction or even your smartphone while recording videos.
The folding stands were designed to be used by mentalists and magicians to display predictions but also have a built-in card reveal.
Watch and buy: HERE
►Oh No!:
You display a small box with built in scissors and a tube down the center. You place your finger (or any similarly shaped object like a borrowed pen) into the tube from underneath so it protrudes from the top of the tube.
The scissors are then used to apparently cut through your finger and as a convincer you lift half the tube to show that the middle of the finger is completely gone even though the fingertip sticking out of the tube is still there and wiggling.
Everything is then restored, and your finger is back to the way it started. The finger is examinable but not the prop.
Watch and buy: HERE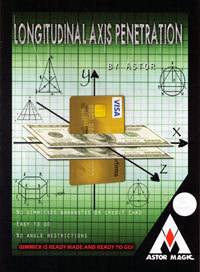 ►Longitudinal Axis Penetration:
Show a clear plastic case that can hold two US bills (any denomination and they can even be borrowed). You place the two bills side by side and then fold the case in half. Once folded the bills are seen overlapping as you point out a slit on both sides. Using a borrowed credit card, or your own, you can now visually push that card right through both bills apparently ripping them. But when the bills are removed from the case, they are undamaged. And best of all… everything is examinable before and after the performance.
Watch and buy: HERE
Stay happy, Meir
PS: Congratulations to the IBM who is celebrating its 100th anniversary in Atlanta this weekend. Just realized that I have been a member for more than 40% of its existence!