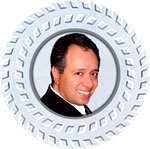 Meir's Muses
MyMagic eNewsletter #885
December 5, 2020
We all know that if you get your audiences emotionally involved with what you are doing, their attention and reactions will be heightened, and they are more likely to remember you.

In addition to emotions, when performing magic in general, and close-up in particular, the more of the audiences' senses you can engage during the magic the more magical the experience can be. The movie industry tried that when I was a kid by introducing Smell-O-Vision and Sensurround. Both failed but it was still a good idea.

Now I am not suggesting that you cause earthquakes or introduce weird smells while performing. Although Richiardi's use of ether with his sawing routine was great.

I have two items today that can add an element of sound to your otherwise silent magic. The sound in this instant can be used in two ways.

1) To punctuate the moment of magic as in a vanish or an appearance.
2) To subtly use sound as proof that something is where it is supposed to be.

The two items are Christian Scherer's Click Wand and Dr. Michael Rubinstein's Rattle Purse. I introduced the Rattle Purse to you at the beginning of the year and it sold out quicker than expected, but I was able to have 39 more made.

The Click Wand is something new to my line and I only have 17 of the original wands in stock. The good news is that Bill Schmeelk agreed to make more of them once they are gone.
Click Wand:
This very special magic wand can add an audible moment to vanishes and appearances. It is also used to reinforce the existence of coins or other small objects in your hand after they have already vanished.

The magic wand looks like an ordinary wand (if there is such a thing) and can even be handed out for examination without worry of its secrets being discovered.

Its secret is that when it strikes your palm, or any surface, it makes a clicking sound that can pass for a coin, dice, ball, or any of the small solid objects that are used in magic.

Watch and buy: HERE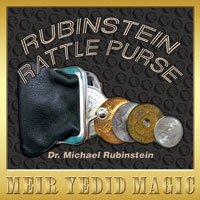 Rubinstein Rattle Purse:
This is a very special coin purse that is hand-made in Italy using fine Italian leather and contains real coins inside a hidden compartment that are used to create a perfect jingling sound when the purse is shaken… even when it is empty.

The purse is used to add an audible element to your coin magic. Simple things like shaking the purse after pretending to put coins inside, solidifies the fact that the coins must be inside because you can hear them inside. The same sound can be used to prove the arrival of vanished coins before any sneaky stuff is done.

You can incorporate the attractive and innocent looking coin purse into any of your existing routines. But we are also including an extensive video tutorial with many applications.

Watch and buy: HERE
Tannen's Collector's Corner:
I received many emails about the link to this program not working. The link is correct, but you have to be a member of facebook and a member of the collectors group to access it. Simply log into your Facebook account and search for "Magic Collectors Corner". Once there click to join the group. You will be approved after a short while and then you can use the link to see the video.

Stay safe, Meir

PS: Came across an old MagicTimes feature about my move to a new warehouse. Didn't realize that it was ten years ago. Take a look: HERE
SMILEYS
MORE INFO & BUY: HERE

You start by explaining that there is an old expression that "people wear their emotions on their sleeve", but magicians wear their emotions on their coins!

You draw a sad face on the face of a half dollar and then… to make the coin feel better you tickle the coin, and it begins smiling when the sad face changes to a happy one! Another tickle, and the coin changes to a yellow smiley face! One last tickle, and the smiley face becomes a big smiley face, bringing a big smile to everyone.
GIGANTIC COMEDY PREDICTION
MORE INFO & BUY: HERE

This is an ideal stand-up routine with intrinsic situational comedy. Even if you are not a comedian the situational comedy that is built into the routine will always get you laughs. But not just laughs… The magic is strong and there is even a duel reality ending where the spectator and the audience experience two different effects and both are impactful!