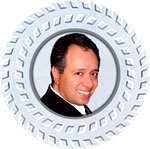 Meir's Muses
MyMagic eNewsletter #880
November 14, 2020
Over the past few years, I have sold hundreds of the Origamagic Cranes. Along the way I shared different routines and handlings in these newsletters and even shot a trailer with a condensed version of the routine I use most often.

I always carry it in my pocket during shows, especially when I emcee. It is a perfect emergency routine since it is self-contained, fits in your pocket, and plays big. When you buy them from me you also get an extra set of instructions with some of these ideas and routines.

Watch and buy: HERE
Using the same technology as the Origamagic Crane, Alan Wong just released a Rabbit. The rabbit version uses more complicated folds than the Crane so it sometimes needs a little help as it refolds, and needs to be shaken instead of tossed, but it is still a great item and you will be able to do most of what you see on my Origamagic Crane trailer. I would additionally recommend drawing eyes on the rabbit with a red or blue marker.

Origami Rabbit Trick:
The effect: What appears to be white tissue is shaken and visually begins folding itself into an origami rabbit.

The special memory fabric technology does all the work for you. It is easy and requires no skill at all. The size of the finished rabbit is around 4.5×3 inches.

Watch and buy: HERE
Heavy Handed:
There has been a run on these for the past few days since a company announced the release of a competing product.

What makes this version special is a combination of what Charlie Frye added to it by using card boxes (normal objects for a magician) and my idea of adding a fourth object to take the heat off the boxes and make it play more like a magic trick as opposed to a puzzle.

Also included on the instructional DVD is a multi-phase routine where you apparently explain how it works but nobody believes you.

I love performing this for small groups because of the fantastic facial expressions you see when the magic happens in their mind. I never really pushed it online because it is hard to explain the effect, but when experienced live it is often sold. I have around 30 pieces left.

Get one now, get one: HERE
Tenyo Four Nightmares DX:
I was able to get a few more of these in stock. It is a great stand-up routine and the only place you can get it with English written instructions and a video tutorial by Daisuke Seo is when you buy it directly from me.

Watch and buy: HERE
eBay:
In addition to the collectible slum magic and cards I was also able to add the Frances Marshall Success books. Which I hope don't sell because I am enjoying going through them. Especially Volume Two.

28 Auctions ending on Sunday: HERE
250 Collectibles in the store: HERE
FREE Bat Quarters:
Wanted to remind you that I am continuing to include a free bat quarter with every shippable order and an additional quarter for every $100 spent. Promo info: HERE

Stay safe, Meir

PS: Did you see my fun interview with Harry Lorayne from a couple of years ago? Watch it: HERE
GIGANTIC COMEDY PREDICTION
MORE INFO & BUY: HERE

This is an ideal stand-up routine with intrinsic situational comedy. Even if you are not a comedian the situational comedy that is built into the routine will always get you laughs. But not just laughs… The magic is strong and there is even a duel reality ending where the spectator and the audience experience two different effects and both are impactful!

Comes complete with a Gigantic Prediction Card (10.5" x 15") that is transformational, a set of Jumbo Forcing Cards (5" x 7"), and access to a 30-minute video tutorial featuring Meir Yedid, Jim Spinnato, Rick Wilcox, and George Schindler.
ESP FEELER CARDS
MORE INFO & BUY: HERE

This is a set of six ESP Symbol Cards (Rhine Cards) that have been manufactured with the "Feel A Color" principle build into them. This allows you to feel the orientation of the cards, even while they are inside envelopes.

They can be used in many ways and can reproduce routines commonly done with one-way cards… except these can be performed while you are blindfolded or with the cards behind your back.