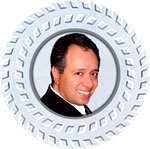 Meir's Muses
MyMagic eNewsletter #876
October 31, 2020
I wrote most of the following newsletter a few months ago but it has taken me this long to be able to accumulate the stuff I need to be able to go live.

I don't know how many of you know this but on February 28 (when the pandemic was sweeping the world) the US Mint released a new Quarter design commemorating the National Park of American Samoa. This is part of a new parks series that was announced in 2008 and this was release number 51 out of 56.
The image that appears on the quarters is the second weirdest coincidence I have encountered. It will blow your mind if you have not heard about it before. The image on the quarter is of two fruit bats!

That is right Bats! Where the Pandemic is reported to have likely transmitted from!

These quarters will forever be the 2020 Bat Quarters and there are already inspiring all kinds of conspiracy theories and will probably become collectible.

So why am I mentioning this? As soon as I found about this, I thought that it will be a fun giveaway.
Turns out that these were very difficult to get and I had to purchase them from the secondary market at up to four times the face value but I finally have enough on hand for the promotion I envisioned.

Starting today every shippable order will receive at least one of these, sure to be collectible, coins. You get a single coin for placing the order plus one additional coin for every $100 threshold ($100+/2-coins, $200+/3-coins… a million dollars/10,001-coins, etc…).
This promotion will continue until I run out of coins or the end of November, whichever comes first.
The bat quarters will not improve your life, but they are a fun conversation starter!
Throughout the pandemic and the Bat Quarters irony I have released and offered many new products and exclusives. Many of them sold out but I thought this will be a good opportunity to remind you of some of the magic you have missed, since March, that I still have is stock:
Who's Afraid of Invisible Thread?


One of the leading sources of how to use and perform with invisible thread:
Get it: HERE

Venue Approved Hot Rod Knife


A hot rod that is also a high-quality knife that is legal to carry.
Get it: HERE

Gigantic Comedy Prediction


An ideal comedy routine for stage. Has gotten unbelievable endorsements.
Get it: HERE

Strolling Knife Routine


Meir's original color changing knife routine that he used when table hopping.
Get it: HERE

2" Sponge Ball Vase


A beautiful wooden edition of this classic done with sponges.
Get it: HERE

Card Silk Set


A set of silks with playing cards on them.
Get it: HERE

Ouija Pin


A beautiful magnetic pin that can be used for many routines.
Get it: HERE

Taillight Color Changing Knives


A great innovation in a justifiable color changing knife.
Get it: HERE

Shelled Coins Across Routines


Three of the best coins across routines that use a shell.
Get it: HERE

Gaffed Put & Take


A toy put & take that lets you control the outcome.
Get it: HERE

The Magic Graveyard


A great book about the great magicians that are buried in the magician's graveyard.
Get it: HERE

ESP Feeler Cards


An amazing fooler that uses a combination of methods that you will love.
Get it: HERE

Stag Color Changing Knife Set


Knives that you can feel for in your pocket.
Get it: HERE

Fusion Coins


Michael Rubinstein's walk around coin routine.
Get it: HERE

Customizable Twists


A twisting cards routine with a customizable kicker ending.
Get it: HERE

Stretching Queen


One of the best and easiest stretching card routines.
Get it: HERE

New York Coin Magic Seminar DVD Set


Likely the most important work in the history of coin magic.
Get it: HERE

Capitulating Queens


A great routine with more surprises and changes than you can count.
Get it: HERE
Thanx for your continued support, Meir

PS: I was able to accumulate enough quarters that I believe will last until the end of November but you are welcome to try and prove me wrong.