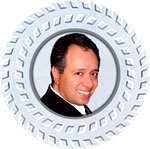 Meir's Muses
MyMagic eNewsletter #861
September 2, 2020
FIRST: I am continuing to ship your orders on a daily basis. Thank you for your continued support.
Last week I mentioned that there are three coins across routines using a shell that are far better than all the others (my opinion). All three were invented by friends of mine and they agreed to let me release all three of them as a single video download. They are:
David Roth's Shell Coins Across
Derek Dingle's Silver Quick
Michael Gallo's Easy Coins Across

The three routines require different skill sets but are all outstanding. You can learn and perform them as is or you can use them as a springboard to create a customized version that suites you best. The introductory price will end next Tuesday.

By following the link below you will get to see a performance of all three routines and all the text explaining why you should buy the download.

Watch and buy: HERE
Japanese Coins & Shell Set:
Don't buy the above download if you already bought this shell set. You get access to the video with every purchase.

I have very few of the original sets left but you can still get one: HERE
I was happy to see that two of my recent releases got good reviews in the current issue of Genii Magazine. You may remember that since I released them, I also shared a video where the Capitulating Queens and Stretching Queen were combined into a very elegant routine. Please revisit:

►Stretching Queen: HERE
►Capitulating Queens: HERE
►Watch the combined routine: HERE

I currently have 54 items at auction on eBay that will be expiring on Sunday night. Mostly slum magic and rare decks of cards.

A direct link to the auction: HERE

Stay safe, Meir

PS: I was able to shoot a very interesting interview yesterday. You will be able to watch in on MagicTimes.com
ESP FEELER CARDS
MORE INFO & BUY: HERE

This is a set of six ESP Symbol Cards (Rhine Cards) that have been manufactured with the "Feel A Color" principle build into them. This allows you to feel the orientation of the cards, even while they are inside envelopes.

They can be used in many ways and can reproduce routines commonly done with one-way cards… except these can be performed while you are blindfolded or with the cards behind your back.
FUSION COINS
MORE INFO & BUY: HERE

Two coins are examined by your friends (a Quarter and a Penny) as you explain the different metals they are made of.

You then place the Penny on top of the Quarter and after a little squeeze the penny sinks into the quarter and is fused inside. The odd new coin can then be examined.

You pick up the coin, give it a little shake and the penny falls out leaving everything examinable and ordinary.