Meir's Muses
MyMagic eNewsletter #930
May 19, 2021
The last newsletter was based on adding rhythm to the ending of routines. Today's offer also has a built-in rhythmic ending and themed around poison. It is also an excellent use of the "Do As I Do" sequences that we all learned as kids. This handling might fool you.
►Deceased The Return:
A card routine with special cards that revolves around a "Cannibal Couple" who use poison that render their victims incapacitated, slice off their victims' limbs while they are still alive and feast on the flesh of the innocent.
The entire routine happens in two spectators' hands and everything is examinable at the end.
Watch and buy: HERE
Since the release of Michael Rubinstein's Coin Magic book, the demand for his Rattle Purse has been very strong. I just received another shipment which will likely be the last at this price.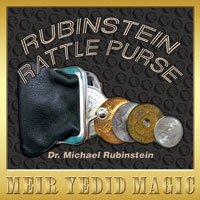 ►Rattle Purse:
This is a very special coin purse that is used to create a perfect jingling sound when the purse is shaken… even when it is empty.
The purse is used to add an audible element to your coin magic. Simple things like shaking the purse after pretending to put coins inside, solidifies the fact that the coins must be inside because you can hear them inside. The same sound can be used to prove the arrival of vanished coins before any sneaky stuff is done.
 Watch and buy: HERE
►eBay:
Added a few more fun things to my eBay auction that expire on Sunday night. You might want some of them.
►Direct auction link: HERE
►MyMagic eBay Store: HERE
Stay safe, Meir
PS: Michael Rubinstein is about to release his latest creation and you will likely hear about here first… stay tuned.