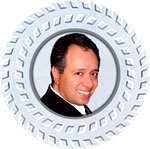 Meir's Muses
MyMagic eNewsletter #864
September 12, 2020
FIRST: I am continuing to ship your orders on a daily basis. Thank you for your continued support.
I am releasing something new today. It is uncharacteristic of the rest of my line, but I was offered this opportunity and decided to go for it. I think you will like it. It is a set of card silks with a blank and a king that are perfect for TT use.

Since they do not come with instructions, I thought I should explain the routine I used in the trailer. But you will need to watch it before you continue reading so you know what I am talking about.

Take a look: HERE

As you may have guessed, I am using a Thumb Tip. The choreography of doing it live would be a lot different since the spectator would be the one cutting the deck and creating the perfect misdirection for the steal.
Also, when doing it live, I keep the TT with the extra load in my pocket so I can start clean and shuffle the cards before anything starts.

The setup is simple: Fold the king in a zig zag formation and wrap it around the TT as pictured, tucking one end so it stays wrapped. Make sure it is not too tight or you will have trouble removing the tip at the end. The blank card is inside the TT and the whole thing stays in your pocket until you are ready to perform.

Begin by getting the King to the top of the deck and shuffling the cards so it stays on top. You can use any force, but the Criss-Cross works nicely here because of the build in gag/delay.

Remove the TT with the silks from your pocket (hidden in your fist) as you explain that it is your prediction. Follow the routine as in the trailer stealing the blank with the tip and leaving the King in your fist. As mentioned above when and how you steal it will be more subtle and on the offbeat from what is on the video.
Card Silk Set:
There are many routines published, recorded, and marketed using card silks. A card silk is a silk scarf with a picture of a playing card on it.

Of the many published routines, the most engaging are the ones that use two silks. One with a blank card pictured and one with a playing card. This two-silk set allows you to present sucker like routines with you missing and then making good. It is also an excuse to magically change one silk into another.

Our silk set which is ideal for Thumb Tip use includes two 9-inch silks: A full-color blank card and a full-color King of Hearts card.

Watch and buy: HERE
In my last newsletter I mentioned that you should watch Harrison Greenbaum's live interview with Harry Lorayne. I was one of the surprise guests. You can watch the rerun at several places but since many people avoid social media sites this link will work well for you. Go: HERE
EBay Sunday:
I currently have 55 items at auction on eBay that will be expiring on Sunday night. Mostly slum magic and rare decks of cards.

A direct link to the auction: HERE

Stay safe, Meir

PS: Currently working very hard on several new releases that I hope to finish in the next month or two. A stand-up item, a coin item, a business card item, a card item and several other interesting things.
SHELLED COINS ACROSS
MORE INFO & BUY: HERE

The Coins Across routine is a classic of magic that has stood the test of time. Some of the reasons it is a classic is that the routine is easy to follow, impossible to reconstruct, it has built in repetition that forces the spectators to pay greater attention and focus on the magic as the routine builds to an ending.

The three best routines I have ever seen were invented by friends of mine: David Roth's Shell Coins Across, Derek Dingle's Silver Quick, and Michael Gallo's Easy Coins Across. The good news is that by purchasing this video download you will be able to learn all three outstanding routines which are performed and explained by the creators.
ESP FEELER CARDS
MORE INFO & BUY: HERE

This is a set of six ESP Symbol Cards (Rhine Cards) that have been manufactured with the "Feel A Color" principle build into them. This allows you to feel the orientation of the cards, even while they are inside envelopes.

They can be used in many ways and can reproduce routines commonly done with one-way cards… except these can be performed while you are blindfolded or with the cards behind your back.