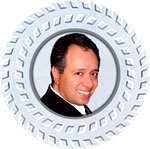 Meir's Muses
MyMagic eNewsletter #871
October 10, 2020
FIRST: I am continuing to ship your orders on a daily basis. Thank you for your continued support.

The Gigantic Comedy Prediction continues to sell, and I am shipping more, and more every day. I anticipated it doing well, but… not this well. I am around half-way through the initial printing. If you did not look at it, or consider it yet…

Take a look: HERE

I just received another shipment of one of my favorite tricks and inventions that hit magic. I have been selling these for more than three years and many of my customers are repeat buyers who want more, and more force cards. I even released a video download where I teach three of my routines using the ingenious prop.
If you haven't guessed yet, I am referring to Higar's Rainbow Phantom Cards. They come in two versions. On a black card and a mirror card. Select which you want when placing your order.

Also, if you are a repeat purchaser let me know which force cards you own so I don't duplicate them.

Watch and buy: HERE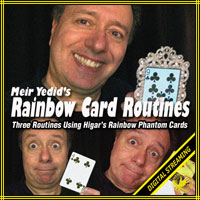 If you didn't get my "Rainbow Card Routines" tutorial with my three routines, you can still get the download… since downloads don't sell-out!

Watch and buy: HERE

If you missed my original newsletters about these great products, they are now archived on MagicTimes.

Go to:
►Meir's Muses: Rainbow: HERE
►Meir's Muses: Over The Rainbow: HERE
While I am reminiscing about previous releases, I wanted to mention my best-selling digital download of all time… created by one of my favorite people. Most of you already own this but just in case… It is Sol Stone's Abraviagra!

Countless magicians have come up to me at conventions and raved about this being one of the best purchases they ever made, and to prove it they would reach into their pocket and show me the cork they always carry with them. I really should be selling it for more than $5.95!

Watch and buy: HERE
eBay:
18 Auctions ending on Sunday: HERE
230 Collectibles in the store: HERE

Stay safe, Meir

PS:
The above PS was left blank on purpose!
ESP FEELER CARDS
MORE INFO & BUY: HERE

This is a set of six ESP Symbol Cards (Rhine Cards) that have been manufactured with the "Feel A Color" principle build into them. This allows you to feel the orientation of the cards, even while they are inside envelopes.

They can be used in many ways and can reproduce routines commonly done with one-way cards… except these can be performed while you are blindfolded or with the cards behind your back.
CARD SILK SET
MORE INFO & BUY: HERE

There are many routines published, recorded, and marketed using card silks. A card silk is a silk scarf with a picture of a playing card on it.

Of the many published routines, the most engaging are the ones that use two silks. One with a blank card pictured and one with a playing card. This two-silk set allows you to present sucker like routines with you missing and then making good. It is also an excuse to magically change one silk into another.

Our silk set which is ideal for Thumb Tip use includes two 9-inch silks: A full-color blank card and a full-color King of Hearts card.