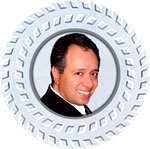 Meir's Muses
MyMagic eNewsletter #813
February 26, 2020
I think that the first time I saw Max Maven do his now famous Pocket Nightmare routine was in the 1980s during one of the New York Symposiums. He fooled everyone in the room and it eventually became his trademark routine. A routine he did not tip until now.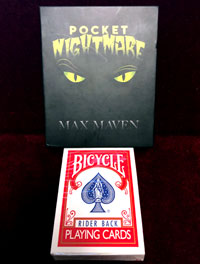 He was often asked about the method, but he would never divulge the secret. I really thought the method used was much more difficult and complicated to do. It turns out that it is practically self-working.

The effect is simple. You hold the deck in one hand while placing your other hand in your pocket. A spectator peeks at a card in the deck. He is then handed the deck so he can remove his card from it. His card has vanished. You then remove your hand from your pocket, and it is now holding the thought-of card.
A perfect stand-up or close-up routine that is direct and magical.

Watch and buy: HERE.
Back In Stock:
►Die-Cipher II: HERE
►Devil Head Lapel Pin: HERE
►Skull & Bones Lapel Pin: HERE
Warehouse Finds, Limited Quantities & Great Prices:
This is part of a large Joker Magic inventory I purchased recently. I keep getting contacted about the items that sold out. Many of these items are no longer being manufactured and the ones that are will not be restocked. Once they are gone… they are gone.

►Volcano Dice:
A 2" die is placed on the table and is covered with a mirror-finish box. When the box is removed the 2" die has vanished and eight 1" dice are found in its place.

Info and buy: HERE

►Ultimate Change:
You get two plastic sleeves that can automatically and visually switch one card for another. The sleeves can be placed in your pocket, card case, wallet or any such place that will make sense for your routine.

Info and buy: HERE

►Chameleon Deck:
A gaffed deck that can be shown to have all different cards or all the same cards. The backs can also be shown as all red and all blue.

Info and buy: HERE

►Boomerang Cards:
The classic Jastrow Illusion done with plastic playing cards to create the illusion of the cards being stretched.

Info and buy: HERE

►Rope Illusion:
You show two pieces of rope. You tie them together to form one rope with a knot in the center. You then remove the knot showing that you only have one long rope left.

Info and buy: HERE
Still Available:
►Penhenge Sharpie: HERE
►Inexhaustible Pack Of Cards: HERE
►Chinese Coin Bending: HERE
►Bermuda Mystery: HERE
►Color Changing Gum: HERE
►Gum Game: HERE
►Find The Red Card: HERE
►Magnetic Domino: HERE
►Jumbo Chinese Coin Color Change: HERE
►Vanishing Magnetic Mini Deck: HERE
►Ring On A Rope: HERE
►Silk Cube: HERE
►Mystic Wand: HERE
►Plexiglass Prediction: HERE
►Chinese Coin Transformation: HERE
Until next time, Meir
 Upcoming Live Appearances:
►Mar 7: Exhibiting at NEMCON in Farmington, CT. Info: HERE.
►Mar 29: Lecturing at Mingus Magic in Reading, PA. Info: HERE.
►Apr 5: Exhibiting at the Real Magic Roadshow in Boston, MA. Info: HERE.
CATCH ME & WIN
MORE INFO & BUY: HERE

Gene Maze's fantastic chain routine combines the Fast & Loose or Endless Chain routines with the classic Three Card Monte and Three Shell Game scams. When the routine was originally published many top pros built their own sets and put it into their shows.

The object is for the spectator to pick the peg that catches. No matter how hard they try they can't find it. Even though you keep making it easier and giving them tips, they always fail. Of course, the secret lies in the fact that you have total control of whether the spectator wins or loses.
MAGICIAN BADGE
MORE INFO & BUY: HERE

This is a real Magician Badge that was fashioned on the badges used by law enforcement agencies around the world. It adds a level credibility to magicians while at the same time adding humor to your introductions. It is a great icebreaker.

The next time you walk up to strangers you can pull out the badge as you say your name and title of Magician. It causes a moment of panic followed by relief and laughter.
PING PONG BALL VASE
MORE INFO & BUY: HERE

A beautiful hand spun Ping Pong Ball Vase made of a single piece of exotic wood. It comes with a Ping Pong ball and a matching shell (ball vase type).

This is one of the few Ball Vases that uses a recognizable object, or what is termed an organic prop. Since the popularity of Beer Pong, that uses the same balls, has far surpassed the popularity of Table Tennis this has become a very common object.
CROCHET SPONGE BALLS
MORE INFO & BUY: HERE

These are hand-made crochet sponge balls. Similar to the crochet balls used for the Cups & Balls and Chop Cup routines except that instead of cork on the inside there is a sponge ball.
They look just like the cork balls but handle much easier and can be manipulated in many ways that would be impossible with cork balls. They can easily be manipulated using most techniques invented for solid balls and sponge balls. Can also be used for the Benson Bowl Routine or even a sponge ball routine.