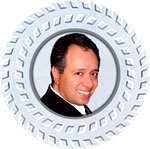 Meir's Muses
MyMagic eNewsletter #805
January 29, 2020
I woke up late last Saturday and was surprised to see that all three items featured in the newsletter sold out before I woke up.

I remember a young Daryl telling a young me that one of the best feelings in the world is knowing that while you are sleeping there are people somewhere in the world sending you money… so, thank you.

The good news is that the team at MagicWorld are working hard to get another shipment of all three items to me as soon as possible. I hope to have them back, in very limited quantity in around 1-2 weeks.

You can sign up for notifications on the product pages. This is really the best way to get notified as soon as they arrive:
► Deadly Marked Deck: HERE.
► Misindexed Gaff Set: HERE.
► Clear Queen: HERE.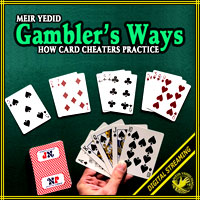 Gambler's Ways:
This week's video download is a routine I have been performing and refining since I was a teenager. It was one of the hits of my Gene Maze Tribute lecture that I debuted last year and was one of the main reasons I sold so many of the lecture videos.

Today I am releasing it to you. But I must warn you that it is not easy to master. I got a big laugh during the explanation when I said, after doing all the sleights, "…and the rest is self-working."

Watch the video performance and see if it is for you. The presentation I believe is original with me and allows for imperfect false deals since it is supposed to be a practice session.

Watch and buy: HERE.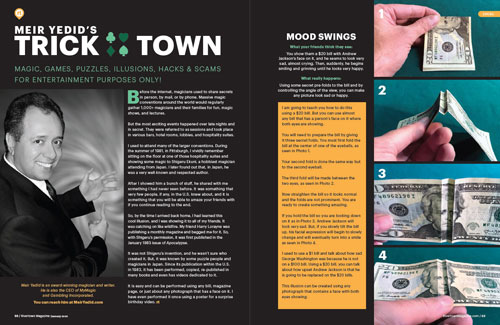 Trick Town:
You can get my latest column in the January issue of Rivertown Magazine before the end of the month. I teach and discuss a classic of magic that became popular because Shigeru Ekuni showed it to me in 1981 and then I started doing it everywhere.

It has become a staple in the optical illusion and magic world and is known by many laypeople. Now you will know how… The column appears on pages 88-89 and the magazine can be viewed for free online or downloaded for your collection at: https://www.rivertownmagazine.com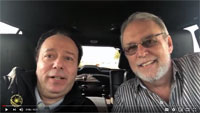 Steve Forte Interview:
I hope you liked the surprise video interview I linked to the last newsletter. It features Steve discussing his new book set, "Gambling Sleight of Hand: Forte Years of Research."

The one thing I wanted to clarify is what Steve refers to as "pseudo stunts." The last 300 pages of the second volume is full of gambling themed routines for magicians with plots that have never been explored before. To make it easier for you to watch and share the interview I uploaded it to YouTube: HERE.
I also wanted to warn you that at the moment the first printing is almost sold out, with less than 200 copies left. To get a copy of the books before they sell-out go: HERE.

Until next time, Meir
Upcoming Live Appearances:
►Feb 22-25: Attending the New York Toy Fair and the Inventor's Party in New York City.
►Mar 29: Lecturing at Mingus Magic in Reading, PA. Info: HERE.
►Apr 5: Exhibiting at the Real Magic Roadshow in Boston, MA. Info: HERE.
MAGICIAN BADGE
MORE INFO & BUY: HERE

This is a real Magician Badge that was fashioned on the badges used by law enforcement agencies around the world. It adds a level credibility to magicians while at the same time adding humor to your introductions. It is a great icebreaker.

The next time you walk up to strangers you can pull out the badge as you say your name and title of Magician. It causes a moment of panic followed by relief and laughter.

This badge was designed and manufactured from scratch. The amount of magical detail is incredible. If you look closely you will see Doves, Cups & Balls, Magic Wands, Playing Cards, Japanese Coins, and even two different reveals you can incorporate into your routines.
PING PONG BALL VASE
MORE INFO & BUY: HERE

A beautiful hand spun Ping Pong Ball Vase made of a single piece of exotic wood. It comes with a Ping Pong ball and a matching shell (ball vase type).

This is one of the few Ball Vases that uses a recognizable object, or what is termed an organic prop. Since the popularity of Beer Pong, that uses the same balls, has far surpassed the popularity of Table Tennis this has become a very common object.

The base of the vase is also hollow so you can load a small object like a silk or sponge as a kicker ending. It is available in two varieties.
CATCH ME & WIN
MORE INFO & BUY: HERE

Gene Maze's fantastic chain routine combines the Fast & Loose or Endless Chain routines with the classic Three Card Monte and Three Shell Game scams.

The basic routine starts out with a wooden stand holding three pegs or posts. A chain is then wrapped around all the pegs as you explain that when the chain is pulled one peg will always catch while the other two will not. If they pick the peg that catches, they win.

No matter how hard they try they can't find it. Even though you keep making it easier and giving them tips, they always fail. The secret lies in the fact that you have total control of whether the spectator wins or loses so you can present the routine anyway you like.
HOW TO MAKE MONEY BY MAGIC
PAPERBACK INFO & BUY: HERE
HARDCOVER INFO & BUY: HERE

Paul Daniels was the highest paid and most successful magician in the world. He started out with nothing and slowly clawed his way up to be a household name in Great Britain and much of the English-speaking world.

His success was not an accident or random luck, it required a lot of study and application of solid principles and strategies that created opportunities. Once the opportunities were recognized, a lot of hard work went into exploiting them, which led to his ultimate success.

Toward the end of his career he teamed up with marketing guru Andrew Lock to produce a twelve-part course that taught how to become successful in magic. That course is now available in book form for a fraction of the original cost.