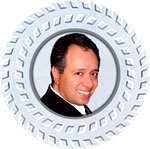 Meir's Muses
MyMagic eNewsletter #891
December 30, 2020
My Unexpected Methods lecture was received much better than I expected. At last count it had more than 2,300 views and lots of compliments. I am glad many of you enjoyed the inside look of how my brain works.

Once it leaves Facebook you can still view it if you are a member of the IBM. You will need your membership information to log in, but the direct link is: HERE

A few months ago, I retired my Zoom lecture (all different magic and techniques) at an SAM Virtual Assembly meeting and that lecture is available on the SAM website. You will need your membership information to log in, but the direct link is: HERE
The special IBM JAM lecture package expires on New Year's Eve so if you are considering it, you only have two days left.

Get it now, get it: HERE

Last night the IBM JAM held a live Season Finale. It ran around three hours and featured many of my friends whose homes we got to visit. I appeared at around 1:17:30. I taught a trick that I think your will like. Take a look: HERE

In the December 19 newsletter (HERE) I introduced you to Nick Diffatte's Card Peggers. Many purchased it on my recommendation and were impressed by the new and easy way of marking the cards that was explained on the trailer (HERE).
I wanted to add a few more tips and secrets that might interest you.

First, I was given permission to tip the adhesive that card cheaters use to attach the pegs. I don't believe this information has been previously shared to the magic community.

Of course, you can use any kind of glue, wax or tape but the secret glue is the medical grade adhesive called: "Pros-Aide 'The Original' Adhesive," that is available online. The easiest way to apply it, is using a drop, on the tip of a paperclip and put half a drop on each of the two surfaces before attaching them (similar to the application of rubber cement).

In the original newsletter and the trailer, I focused on its use with playing cards. But if you want to fry some of your mentalist friends apply the blisters to postcards or photographs. By strategically placing the bumps in different locations and in different quantities and configurations you can identify them by touch alone while the pictures are face down or behind your back!

Which brings me to the last tip which I am hesitant to give away. You can also use the pegs to mark envelopes. And a perfect envelope application is with the trick called Precise Revelation that was taught on the instructional video for my ESP Feeler Cards (HERE). These will allow you to do that same routine using any envelopes with anything you like inside them. I sold a ton of the Feeler Cards, so I am sure that many of you have already smiled and are considering the new combination.

Get the Peggers: HERE
Funny thing about the ESP Feeler Cards is that most of the responses I got from customers who loved them is that they fooled their wives, girlfriends, kids, and grandkids which I guess are their Beta testers, and currently, their only live audience.

Get the Feeler Cards: HERE

eBay:
Auctions ending on Sunday night include Slum magic, cards, and books.
►25 Auctions ending on Sunday: HERE
►237 Collectibles in the store: HERE

I hope you have a happy New Year and next year will slowly shape up to be wonderful.

Stay safe, Meir

PS: I just realized that I did 40 lectures in 2020. All virtual but still, the most I ever did in one year! Also interesting is that I did four completely different lectures in the last 14 months! (My Thumb Drive Lecture, Gene Maze Tribute Lecture, Bag Of Trix Lecture, and Unexpected Methods Lecture). Anyone see all four?
CATCH ME & WIN
MORE INFO & BUY: HERE

Gene Maze's fantastic chain routine combines the Fast & Loose or Endless Chain routines with the classic Three Card Monte and Three Shell Game scams.

Comes complete with everything you need to perform the routine. The base, the pegs and the chain. The video tutorial includes Meir Yedid performing and teaching his routine, Harry Lorayne performing and teaching Gene's routine and a very early and rare video of Gene Maze performing his original routine before it was ever published.
GIGANTIC COMEDY PREDICTION
MORE INFO & BUY: HERE

This is an ideal stand-up routine with intrinsic situational comedy. Even if you are not a comedian the situational comedy that is built into the routine will always get you laughs. But not just laughs… The magic is strong and there is even a duel reality ending where the spectator and the audience experience two different effects and both are impactful!