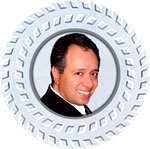 Meir's Muses
MyMagic eNewsletter #882
November 21, 2020
Over the past few weeks, I took you on a Houdini journey where we examined his life through a five-part mini-series at Roger Dreyer's Houdini Museum. It is likely that the tour will continue early next year when we visit the new location and go over many of the Houdini artifacts and the stories behind them. The series can be seen for free at: MagicTimes.com
Every year the SAM Parent Assembly holds a Broken Wand Ceremony in honor of Houdini's contributions to magic. I attended several of them over the years and thought that the many readers of this newsletter and MagicTimes would like to see what takes place at these events. So, I fought through the heavy traffic from New Jersey to New York and paid the ever-increasing tolls in hopes of recording the event and show you around the cemetery.

I think you will enjoy the quick documentary style 12-minute video: HERE

But I am not done with Houdini for this year. I hope to have another feature that looks at a massive Houdini collection soon.

Back to business…

The regular readers of this newsletter know that one of my favorite mentalism ploys is a "ranging force combined with multiple outs." You can see my work on this in my original WOW Book Test: HERE

I am always on the lookout for new ways to introduce multiple outs. A few months ago, Alan Wong released his Tyvek Himber Envelopes. The title alone made me think; Who would want an envelope that works like a Himber Wallet? I assumed that this is what is being offered.

I recently decided to buy one for myself to see what it is, I was surprised at what I got. It is an envelope where both sides look the same, but each side can be opened separately with a different outcome. The construction is similar to my Piatt Envelopes except the openings are on different sides. If you have a routine that uses two outs this will work great and if you place the envelopes inside other multiple-out devices, it can double the number of outs for you.
Tyvek Himber Envelopes:
The envelopes are made to hold poker size cards and are slightly larger than a card. The overall size is 2.75" x 3.75" and can comfortably hold up to two cards on each side.

Basically, it is a double-sided envelope that is made to look the same on both sides. You can have predictions on each side for multiple out routines or switches. You can also use it as a coin envelope since that is what it most resembles.

Available in brown (10pk) or black (10pk). The brown edition is also available in packs of two (2pk).

Buy: HERE
More Creative Coin Magic:
Wanted to remind you that the introductory sale price for Michael Rubinstein's download will expire on Tuesday night.

He performs a show featuring: Triple Play, Crazy Coins Across, Stand Up Coins Through The Table, Silver Lint 4, and Stand-Up Sucker Copper-Silver Routine.

He then presents a lecture where he teaches: Stand-Up Sucker Copper-Silver Routine, Triple Play, Stand Up Coins Through The Table, Retro Fly, Silver Lint 4, The Chocolate Coin, and Merlini Purse Routine. Along the way you will learn a ton of coin techniques.

Watch and buy: HERE
eBay:
Collectible slum magic and cards at auction will expire on Sunday Night.
►23 Auctions ending on Sunday: HERE
►243 Collectibles in the store: HERE

Bat Quarters:
Looks like the promotion is about to end. My guess is that I will run out of them later this afternoon. As usual they will be sent to you on a first come first shipped basis. Thank you for participating. Info about the promotion: HERE

Stay safe, Meir

PS: MagicTimes now has more than 100 videos archived for you to view. A direct link to the video section: HERE
PSS: You will not get a newsletter from me on Wednesday due to the holiday, but I do have a new release scheduled for the Saturday newsletter.

GIGANTIC COMEDY PREDICTION
MORE INFO & BUY: HERE

This is an ideal stand-up routine with intrinsic situational comedy. Even if you are not a comedian the situational comedy that is built into the routine will always get you laughs. But not just laughs… The magic is strong and there is even a duel reality ending where the spectator and the audience experience two different effects and both are impactful!

Comes complete with a Gigantic Prediction Card (10.5" x 15") that is transformational, a set of Jumbo Forcing Cards (5" x 7"), and access to a 30-minute video tutorial featuring Meir Yedid, Jim Spinnato, Rick Wilcox, and George Schindler.

ESP FEELER CARDS
MORE INFO & BUY: HERE

This is a set of six ESP Symbol Cards (Rhine Cards) that have been manufactured with the "Feel A Color" principle build into them. This allows you to feel the orientation of the cards, even while they are inside envelopes.

They can be used in many ways and can reproduce routines commonly done with one-way cards… except these can be performed while you are blindfolded or with the cards behind your back.