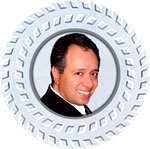 Meir's Muses
MyMagic eNewsletter #833
May 20, 2020
FIRST: I am continuing to ship your orders on a daily basis. Thank you for your continued support.
In my last newsletter I mentioned that I reached the half-way mark of my Zoom Worldwide Lecture Tour. Well, since Sunday I agreed to eight more lectures so the new half-way point will be reached tomorrow.
Many magicians have asked me if I can do a lecture that is open to all. I am resisting this since the whole point was to visit the individual magic clubs that help keep our art alive, clubs are also the environment which I matured in.

However, the last two times I present this lecture on June 13 and 14 will be more accessible than all the others, with worldwide reach. But still limited to magicians.

I am still intrigued by all the pop-up drive-in theaters that are being planned around the country where they are basically turning parking lots and farms into destinations. I can envision a live act opening for and introducing the movies or even close-up magic being presented to people in their cars, so the hood becomes the close-up table and the windshield is where they view the magic through. Who knows?

In the last 10+ years it has become more acceptable for magic products to be released that require additional assembly and customization by the customer. This saves a lot of money in the manufacture due decreased labor costs.

I have avoided carrying many of those items, but I see that people do not mind honing their arts and crafts skills and customizing their purchases. Today I am offering you an item that you will have to customize. I also got a good deal on it and am offering it to you at half the original price.
Double Take:
You get the necessary gimmicks and online instructions on how to assemble and customize everything. You are also taught three routines. I do not know too many people who would do the main routine on the trailer but the two bonus routines at the end of the trailer are excellent.

Especially the freely selected card and bill transposition that can be performed using the spectator's wallet or pocket. These are being offered at a 50% off discount, while they last.

Watch and buy: HERE
Wonder Card:
If you are one of the hundreds of magicians who attended my "Bag Of Trix" lecture you know that I like magic that you can carry in your wallet.

This is a neat looking credit card that is gaffed for multiple effects. You are taught seven different routines you can do with it… Although you will only need one to make it a keeper.

Watch and buy: HERE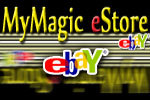 I have 28 auction items expiring tonight. Of particular interest to collectors will be original Willard The Wizard printing plates. The rest of the items are mostly collectible decks of cards.

There is a total of 28 items at auction and more than 200 items in my eBay store.

A direct link to the auction items is: HERE

If you want to visit the store and browse around go: HERE.
Warehouse Finds, Limited Quantities & Great Prices:
This is part of a large Joker Magic inventory I purchased recently. Many of these items are no longer being manufactured and the ones that are will not be restocked. Once they are gone… they are gone!

Still Available:
►Preferred: HERE
►Pass Through Deck: HERE
►Giant Domino: HERE
►Hit The Jackpot: HERE
►Fully Packed: HERE
►BRB Dice: HERE
►Mobile Printer: HERE
►Clone Cube: HERE
►Cube 4 You: HERE
►Ultimate Change: HERE
►Chameleon Deck: HERE
►Boomerang Cards: HERE
►Inexhaustible Pack Of Cards: HERE
►Chinese Coin Bending: HERE
►Color Changing Gum: HERE
►Gum Game: HERE
►Find The Red Card: HERE
►Magnetic Domino: HERE
►Jumbo Chinese Coin Color Change: HERE
►Vanishing Magnetic Mini Deck: HERE
►Ring On A Rope: HERE
►Silk Cube: HERE
►Mystic Wand: HERE
►Plexiglass Prediction: HERE
►Chinese Coin Transformation: HERE

Stay safe, Meir
Upcoming Live Appearances:
► The Magic Bag Of Trix Lecture appearing at magic clubs worldwide during their Zoom meetings.
CAPITULATING QUEENS
MORE INFO & BUY: HERE

This routine has often been referred to as one of the best packet tricks. It has more visual impossibilities than most in its genre.

You cleanly show four queens, explaining that one of them is very special. The first three Queens that are selected are shown to have different colored backs.

The last Queen is cleanly shown to have a blue back as you explain it too is special. The cards are shown again and now they all have red backs except for the last Queen.

As a finale the four Queens are shown to have four different back designs and colors and they can even be handed for examination.
CATCH ME & WIN
MORE INFO & BUY: HERE

Gene Maze's fantastic chain routine combines the Fast & Loose or Endless Chain routines with the classic Three Card Monte and Three Shell Game scams. When the routine was originally published many top pros built their own sets and put it into their shows.

The object is for the spectator to pick the peg that catches. No matter how hard they try they can't find it. Even though you keep making it easier and giving them tips, they always fail. Of course, the secret lies in the fact that you have total control of whether the spectator wins or loses.
RAINBOW CARD ROUTINES
MORE INFO & BUY: HERE

Higar's Rainbow Phantom Cards are among the most ingenious technologies that has been applied to magic. I have been performing with them for years and on this video tutorial I will teach my three favorite routines. These are routines that I use. Two of them are close-up routines and one is used when I am performing formal close-up or stand-up.

Taught are Meir Yedid's Rainbow Cut Card Routine, Rainbow Doctor Who Routine, Rainbow Wonder Mirror Routine, and Trevor Lewis' Swivel Cut Swindle.

The spectator's face is always framed with the reveal and saved on their phone. And most importantly every time they look at the picture, they will be reminded of you and your performance.
MAGICIAN BADGE
MORE INFO & BUY: HERE

This is a real Magician Badge that was fashioned on the badges used by law enforcement agencies around the world. It adds a level credibility to magicians while at the same time adding humor to your introductions. It is a great icebreaker.

The next time you walk up to strangers you can pull out the badge as you say your name and title of Magician. It causes a moment of panic followed by relief and laughter.