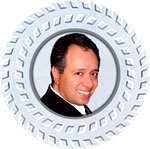 Meir's Muses
MyMagic eNewsletter #877
November 4, 2020
I hope you enjoyed the Bat newsletter last week. It was fun to do the promotion and wanted to remind you that I will continue to include the bat quarters as a gift with every order.
If you decided to do some additional research about the quarters, how to get them, and what is their current value you may have come across some websites that are selling them for up to $15,000 each. Obviously, the ones I am including are not those collectibles. You will be getting the ones from the Philadelphia, Denver, or San Fransisco mints. Unless I make a mistake… which I won't… I hope!
As a reminder: Every shippable order gets a Bat Quarter, and you get an extra one for every $100 spent.

For more information about the Quarters and the promotion go: HERE

I was finally able to finish preparing Dr. Michael Rubinstein's Creative Coin Magic video for download. It includes stuff that was not on the original video and DVD releases and some stuff that is not in his massive new book.

I really enjoyed putting this together as I was doing it with coins in hand. Especially following the tutorial on his R.O.P.S. Move that I can now do, but must still work on the timing. Another interesting section is his Matting tutorial which is an original stand-up ditching technique that can replace sleeving and lapping.
Creative Coin Magic:
Dr. Michael Rubinstein is considered one of the best coin magicians and creators in the business. This video was recorded in Philadelphia in 1986 during a live lecture where he performed and explained some of his best routines.

Routines performed and explained: Crazy Coins Across, Stand-Up Sucker Copper-Silver Routine, Twilight Zone Wild Coin, Quadra Coin Reverse Matrix, Matchbox Treasury, Triple Coin To Card, and Silver Lint.

Techniques performed and explained: The Rubinstein Click Pass, Fingertip Rest, R.O.P.S. Move, Utility Switch, R.O.P.S. Click Pass, Backwards Gallo Pitch, Matting, Touch Change, Nail Grip, Drop Switch, Spellbound Changeover Palm, Thumb Palm Switch, Paul Harris Steal, Ed Marlo Steal, No Pick-Up Move, Double Steal, Marlo Scoop Vanish, Card Lever Load, Variation Retention Vanish, Twist Substitution, Turnover Slide Switch, Scoop Switch, Gibson Spider Grip Vanish Rubinstein Variation, L'homme Masque Load, The Fingertip Load, Dai Vernon Spellbound Moves, Snapout Move, and more.

Watch and buy: HERE

As usual the discounted introductory price will end on Tuesday.
Houdini Museum Tour: Episode Four:
Episode Four of my Houdini Mini-Series went live yesterday. This episode centers around Houdini's anti-spiritualism crusade and features some of his techniques and adventures during that time and how he decided to add a Spiritual debunking segment to his show.

Roger Dreyer manages to tell some interesting stories that I never heard before while showing us some original Houdini ephemera.

Watch Episode Four: HERE
Watch Episode Three: HERE
Watch Episode Two: HERE
Watch Episode One: HERE

And please feel free to share these episodes on Social Media. I made it easy to do from the video pages.

eBay:
Was able add a bunch of new collectible slum magic items this weekend.
24 Auctions ending on Sunday: HERE
246 Collectibles in the store: HERE

Stay safe, Meir

PS: MagicTimes.com now has more than 520 entries with thousands of news items and videos throughout.
GIGANTIC COMEDY PREDICTION
MORE INFO & BUY: HERE

This is an ideal stand-up routine with intrinsic situational comedy. Even if you are not a comedian the situational comedy that is built into the routine will always get you laughs. But not just laughs… The magic is strong and there is even a duel reality ending where the spectator and the audience experience two different effects and both are impactful!

Comes complete with a Gigantic Prediction Card (10.5" x 15") that is transformational, a set of Jumbo Forcing Cards (5" x 7"), and access to a 30-minute video tutorial featuring Meir Yedid, Jim Spinnato, Rick Wilcox, and George Schindler.
WHO'S AFRAID OF INVISIBLE THREAD?
MORE INFO & BUY: HERE

This is considered the definitive work on magic with invisible thread. If you have ever wanted to perform astounding magic where objects seem to move and float on their own this is your opportunity.

Based on Jon LeClair's best-selling book "The Art of Invisible Thread," this program takes you on a candid outing where LeClair performs live for startled spectators in a restaurant. You are then taught how to perform everything. LeClair's techniques can be used at virtually anytime and in any situation — they are the most practical methods for using invisible thread ever developed.