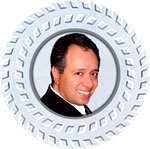 Meir's Muses
MyMagic eNewsletter #855
August 12, 2020
FIRST: I am continuing to ship your orders on a daily basis. Thank you for your continued support.
I have gotten many emails and messages over the past few months about when I will be getting another shipment of Nick Diffatte's book Funny. Especially since he announced that he is giving me an exclusive on them.

It has taken a while, but they are finally here. It is exceedingly difficult to track down Nick, even when he is quarantined. End even then, to chain him down to a desk so he can autograph all the copies and then package them and ship them… Not a job for a comedy magician!

He also found what is likely the last of the DVDs he produced where he performs and teaches some of his routines.

After selling many copies of this book my stage magician customers commented that his "Dye Another Day" routine was their favorite and was worth the price of the book. My favorite is still his "Schtick Of Gum."
Oh! His "Dye Another Day" routine appears in both his Book and DVD.

Through Being Cool DVD:
This is Nick Diffatte's first instructional DVD and features the routines he uses professionally. They include a combination of close-up and stand-up material.

Routines include:  Play Money Revisited, Nest of Office Supplies, Dye Another Day, MisMatch, and Tea Time.

Watch and buy: HERE
Funny:
Nick Diffatte's book takes you on a conversational tour through the art of comedy, magic, and the integration of both. You are also exposed to the many aspects of becoming a good comedy magician, writer, performer and how to stand out in the field.

There is a total of eleven essays that cover the various subjects. They include: How I Learned to Stop Worrying and Love the Bomb, Cheap Notebooks, Funny, Trends Are Traps, Bad Shows, Theft, Openers, Swearing, If You Want Meat Go to a Butcher, Writing, and Looking Outside of Magic.

You are also taught his Dye Another Day, Nest Of Office Supplies, and Schtick Of Gum routines.

Get now, get it: HERE
More Unique Chinese Coins:
These are all Chinese Coins in various sizes, colors, and gaffs. Will offer a few today and the rest over the next few weeks. I only have between one and three of each and most have been discontinued. Get it now if it interests you.
►Black Chinese Coin With Matching Shell: HERE
►White Chinese Coin With Matching Shell: HERE
►Green Two Chinese Coins With Matching Shell: HERE
►Jumbo Chinese Coins: HERE

Ebay:
I currently have 58 eBay auctions expiring on Sunday night. A combination of very rare slum magic (Adams in particular) and hard to find decks of cards.

A direct link to the auction: HERE

Stay safe, Meir

PS: Could not think of anything witty to say so no PS today.
ESP FEELER CARDS
MORE INFO & BUY: HERE

This is a set of six ESP Symbol Cards (Rhine Cards) that have been manufactured with the "Feel A Color" principle build into them. This allows you to feel the orientation of the cards, even while they are inside envelopes.

They can be used in many ways and can reproduce routines commonly done with one-way cards… except these can be performed while you are blindfolded or with the cards behind your back.
FUSION COINS
MORE INFO & BUY: HERE
Two coins are examined by your friends (a Quarter and a Penny) as you explain the different metals they are made of.

You then place the Penny on top of the Quarter and after a little squeeze the penny sinks into the quarter and is fused inside. The odd new coin can then be examined.

You pick up the coin, give it a little shake and the penny falls out leaving everything examinable and ordinary.
MORE INFO & BUY: HERE
STRETCHING QUEEN
MORE INFO & BUY: HERE

This is a beautifully clean handling of Peter Kane's brilliant Elongated Lady effect.

You begin by removing three cards from your deck. The Queen of Hearts and the two black nines. All the cards are cleanly shown as you place the Queen face up between the two face down nines. In an eerie visual the Queen begins to stretch to one-and-a-half times its length for an impossible visual.

The Queen is then shrunk back to its normal size and all three cards are cleanly shown on both sides. The Queen can then be given out as a souvenir.
RICH MAROTTA'S 4-VOLUME COMEDY MAGIC
MORE INFO & BUY: HERE

Rich Marotta is a successful magician and comedian. On these four videos he discusses the secrets of comedy and magic while performing and teaching some of his best routines. The four videos combined serve as a five-hour course on comedy magic with routines ranging from the smallest intimate walk-around routines with coins all the way up to stage illusions where you rip the heart out of your assistant's heart!

In addition to explaining how everything works, how to construct the props and all the techniques used, Rich also gives great advice on how to create and structure comedy routines and acts. Contains adult language.