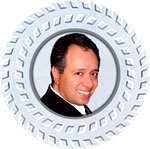 Meir's Muses
MyMagic eNewsletter #872
October 17, 2020
FIRST: I am continuing to ship your orders on a daily basis. Thank you for your continued support.

Have been busy working on a mini-series for MagicTimes.com that will run between 6-8 episodes. I think you will enjoy it and am planning on releasing one episode per week. Every Tuesday night. More information below.

This week I am releasing Christian Scherer's Coin Clip. I have a limited supply (eleven) of his original clips that he designed and had manufactured. Once these are gone I will be having them manufactured locally and with some minor modifications that I am thinking about (as usual I have dozens of ideas but will likely settle for the 1-2 that are practical).
Christian Scherer's Coin Clip:
The coin clip was popularized by Slydini and was used to vanish a quantity of coins without any noise or worry about them spilling all over the place.

Christian Scherer redesigned the original Slydini Coin Clip, so it is smaller and much easier to handle. It also includes a clip on the back which allows it to be attached to any finger ring for even easier and more natural handlings. The clip comfortably holds four half-dollars, quarters, or any similar sized coins.

Buy one: HERE
Ultimate Micro Chop Cup Kit:
You may remember that a while ago I was supplying you with Steven Schneiderman's Micro Chop Cups. These were so popular that I had a difficult time keeping them in stock.

Several of you purchased two or even three sets, you liked them so much. Steven agreed to have ten more made and you can get them now.

Get one: HERE
Houdini Museum Tour:
The Houdini Museum of New York moved to New Jersey and just before closing its New York location, Roger Dreyer, who is the founder, allowed me to come and shoot an extensive tour that chronicles Houdini's life, career and magic. Roger is a Houdini expert and narrated the entire tour with many interesting stories and original artifacts.

Each episode will focus on a specific subject and will be released every week or so. Episode one looks at his early life. This will be interesting to Houdini buffs and eye opening to all others.

Watch Episode One: HERE
Rainbow Phantom Cards:
The response to the last newsletter was excellent and I was able to get another shipment of these amazing card reveals just as a I sold-out of my previous inventory.

If you missed out or were looking for a specific card let me know. If you did not read the last newsletter or if you are not familiar with them. Get one now. You will not be sorry.

Watch and buy: HERE

eBay:
18 Auctions ending on Sunday: HERE
230 Collectibles in the store: HERE

Stay safe, Meir

PS:MagicTimes.com now has more than 50 videos archived. Feel free to go there and waste your time watching magic.
GIGANTIC COMEDY PREDICTION
MORE INFO & BUY: HERE

This is an ideal stand-up routine with intrinsic situational comedy. Even if you are not a comedian the situational comedy that is built into the routine will always get you laughs. But not just laughs… The magic is strong and there is even a duel reality ending where the spectator and the audience experience two different effects and both are impactful!

Comes complete with a Gigantic Prediction Card (10.5" x 15") that is transformational, a set of Jumbo Forcing Cards (5" x 7"), and access to a 30-minute video tutorial featuring Meir Yedid, Jim Spinnato, Rick Wilcox, and George Schindler.
CARD SILK SET
MORE INFO & BUY: HERE

There are many routines published, recorded, and marketed using card silks. A card silk is a silk scarf with a picture of a playing card on it.

Of the many published routines, the most engaging are the ones that use two silks. One with a blank card pictured and one with a playing card. This two-silk set allows you to present sucker like routines with you missing and then making good. It is also an excuse to magically change one silk into another.

Our silk set which is ideal for Thumb Tip use includes two 9-inch silks: A full-color blank card and a full-color King of Hearts card.