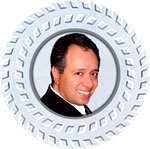 Meir's Muses
MyMagic eNewsletter #840
June 20, 2020
FIRST: I am continuing to ship your orders on a daily basis. Thank you for your continued support.
If you watched the video interview, I shared in my last newsletter with Dr. Michael Rubinstein you saw that he really knows his coin magic and his thinking is unique. I never heard the difference between doing magic standing or sitting explained this way before.
You also heard us briefly discuss the New York Coin Magic Seminars and the 16-Volume DVD Box Set that they produced. I honestly believe that if you want to add great coin routines to your arsenal of go-to magic there is no better place than these DVDs.
And you cannot possibly consider yourself an expert on the subject without studying the wealth of knowledge on these discs.
Imagine sessioning with the greatest coin magic experts of our lifetime for 36+ Hours, where they share more than 250 of their greatest creations and favorite techniques and routines.
Who are these experts? The four main ones are David Roth, Michael Gallo, Dr. Michael Rubinstein, and Geoff Latta. But that is not all. They are joined by their friends who are also giants in the field. Magicians like: Dr. Kainoa Harbottle, Marc DeSouza, Dan Watkins, Giacomo Bertini, Eric Jones, Vic Trabucco, Al Schneider, Scotty York, Bill Citino, Eric DeCamps, Doug Brewer, Scott Robinson, Bob Fitch, and Jean Emmanuel Franzis.
I am excited to offer you the complete collection, plus a bonus performance DVD for a ridiculously low price. While supplies last.
The original retail price for the set was around $580. This Box Set later sold for $250. Since I now have all the remaining inventory, I can offer you the entire 18-DVD Set for a fraction of that.
More details and purchase: HERE
Back in Stock:
►Zodiac Coin: HERE
►Question Mark Lapel Pin: HERE
►Devil Head Lapel Pin: HERE
►Skull & Bones Lapel Pin: HERE
►Magic Lamp Lapel Pin: HERE
Been busy putting the final touches on my latest release. I hope to introduce it to you next Wednesday or Saturday.
Until next time, Meir
Warehouse Finds, Limited Quantities & Great Prices:
This is part of a large Joker Magic inventory I purchased recently. Many of these items are no longer being manufactured and the ones that are will not be restocked. Once they are gone… they are gone!

Still Available:
►Preferred: HERE
►Pass Through Deck: HERE
►Giant Domino: HERE
►Hit The Jackpot: HERE
►Fully Packed: HERE
►BRB Dice: HERE
►Mobile Printer: HERE
►Clone Cube: HERE
►Cube 4 You: HERE
►Ultimate Change: HERE
►Chameleon Deck: HERE
►Boomerang Cards: HERE
►Inexhaustible Pack Of Cards: HERE
►Chinese Coin Bending: HERE
►Color Changing Gum: HERE
►Gum Game: HERE
►Magnetic Domino: HERE
►Jumbo Chinese Coin Color Change: HERE
►Vanishing Magnetic Mini Deck: HERE
►Ring On A Rope: HERE
►Silk Cube: HERE
►Mystic Wand: HERE
►Plexiglass Prediction: HERE

Stay safe,

Meir
RUBINSTEIN RATTLE PURSE
MORE INFO & BUY: HERE

This is a very special coin purse that is hand-made in Italy using fine Italian leather and contains real coins inside a hidden compartment that are used to create a perfect jingling sound when the purse is shaken… even when it is empty.

The purse is used to add an audible element to your coin magic. Simple things like shaking the purse after pretending to put coins inside, solidifies the fact that the coins must be inside because you can hear them inside. The same sound can be used to prove the arrival of vanished coins before any sneaky stuff is done.
POLARITY CARDS
MORE INFO & BUY: HERE

A set of five Bicycle playing cards (a Royal Flush) with magnets embedded in them which allows you to toss them from hand to hand as if they were a single card and then produce the rest. Using sleight of hand, you can make cards jump from hand to hand and even vanish them one by one.

The cards were made by hand using the thinnest and strongest magnets (for their size). The overall thickness of the five-card stack is around ten cards.
CAPITULATING QUEENS
MORE INFO & BUY: HERE

This routine has often been referred to as one of the best packet tricks. It has more visual impossibilities than most in its genre.

You cleanly show four queens, explaining that one of them is very special. The first three Queens that are selected are shown to have different colored backs.

The last Queen is cleanly shown to have a blue back as you explain it too is special. The cards are shown again and now they all have red backs except for the last Queen.

As a finale the four Queens are shown to have four different back designs and colors and they can even be handed for examination.
MAGICIAN BADGE
MORE INFO & BUY: HERE

This is a real Magician Badge that was fashioned on the badges used by law enforcement agencies around the world. It adds a level credibility to magicians while at the same time adding humor to your introductions. It is a great icebreaker.

The next time you walk up to strangers you can pull out the badge as you say your name and title of Magician. It causes a moment of panic followed by relief and laughter.