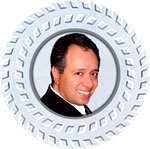 Meir's Muses
MyMagic eNewsletter #879
November 11, 2020
Generally speaking, I am not into, impersonal, story telling magic and especially stories that are farfetched. Since I am not a great actor, I always try to keep my presentations and stories as honest and plausible as possible. Because if I believe in what I am saying, so will my audiences. Far too often I see performers lose all credibility with their audiences because of their scripts.

Of course, there are also many great and engaging story tellers who have mastered the art… but that is not me.

Lately I have been looking at some of the dark story-based routines that are coming out to see if they are relatable and easy to present in an honest fashion. One caught my eye because the structure of the routine is easy to follow and the ending is spectacular. The theme is also similar to the many television shows and movies that revolve around serial killers which makes the story familiar and relatable to your audiences. It also uses my favorite mentalism system of ranging forces and multiple outs. I think you will like it.
The Collector:
A very easy, clean, direct, and impossible routine with a surprise ending.

The story revolves around a serial killer who collected personal items from the murder victims.

Your spectator is enlisted as a psychic investigator who must find the serial killer from a stack of possible suspects. The spectator's selection is proven to be true in a surprising revelation.

Practically self-working and everything is examinable at the end.

Watch and buy: HERE
Houdini Museum Tour: Episode Five:
This is the final episode that was shot at Roger Dreyer's New York location. At some point in the future I plan on releasing more episodes from the New Jersey location where we can focus on specific subjects and ephemera.

This episode centers around what Houdini was most remembered for. His escapes! You will get to see tons of handcuffs and picks and the escape stories that went with them.

Take a look: HERE

eBay:
Was able add a bunch of new collectible slum magic items last weekend.
28 Auctions ending on Sunday: HERE
250 Collectibles in the store: HERE
FREE Bat Quarters:
Wanted to remind you that I am continuing to include a free bat quarter with every shippable order and an additional quarter for every $100 spent. I was able to get two more rolls of them so I should be good until the end of November. Promo info: HERE

Stay safe, Meir

PS: Yesterday I spent the day at Houdini's gravesite where the SAM Parent Assembly held their annual Wand Ceremony. I shot a lot of video and interviews and will likely put together a program for everyone to experience at: MagicTimes.com
GIGANTIC COMEDY PREDICTION
MORE INFO & BUY: HERE

This is an ideal stand-up routine with intrinsic situational comedy. Even if you are not a comedian the situational comedy that is built into the routine will always get you laughs. But not just laughs… The magic is strong and there is even a duel reality ending where the spectator and the audience experience two different effects and both are impactful!

Comes complete with a Gigantic Prediction Card (10.5" x 15") that is transformational, a set of Jumbo Forcing Cards (5" x 7"), and access to a 30-minute video tutorial featuring Meir Yedid, Jim Spinnato, Rick Wilcox, and George Schindler.
ESP FEELER CARDS
MORE INFO & BUY: HERE

This is a set of six ESP Symbol Cards (Rhine Cards) that have been manufactured with the "Feel A Color" principle build into them. This allows you to feel the orientation of the cards, even while they are inside envelopes.

They can be used in many ways and can reproduce routines commonly done with one-way cards… except these can be performed while you are blindfolded or with the cards behind your back.