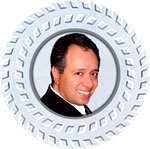 Meir's Muses
MyMagic eNewsletter #860
August 29, 2020
FIRST: I am continuing to ship your orders on a daily basis. Thank you for your continued support.
One of the things that always bothered me was the designs used for the "Chinese Coins" in magic. Very often the Chinese characters on the coins spelled silly words, many of the coins had reverse images on them, the enamel colors on them made them look like toys, and I always felt guilty calling them Chinese coins. You would often hear me call them fake Chinese coins within routines. Now there are certain times and routines where the colored coins are justified.

Even though it always bugged me I never did anything about it. But it turns out I was not the only one who felt that way. Christian Scherer felt the same way, except in the 1980s he manufactured what are Japanese Coins and matching expanded shells with full coverage.
The coins were expanded replicas of the 5 Yen coin. The real coins which are still in circulation are around the the size of a US Nickel, but he had them expanded so they are identical in size to US Half Dollars and English Pennies.

As you may remember I recently purchased the rights and remaining inventory to some of his coin line which included these. I have a limited supply but am planning on making more of them in the future.

A complete set includes four coins plus one matching expanded shell. Every magician I have shown these coins to absolutely loved them and couldn't wait to get their own set. I am sure that if you love coin magic you will love these.

Get a set now: HERE
In offering this set I wanted to give you something special. After all, what good is a set of coins without any routines to do with them? Coincidentally three of the best coins across routines using a shell were invented by friends of mine. I was able to get permission to those routines and include them in a 20-minute video tutorial featuring: David Roth, Derek Dingle, and Michael Gallo. More details next week…

For a limited time, every purchase of the Japanese Coins & Shell Set will get the video tutorial for FREE!

Get the set now: HERE
The Magic Graveyard:
The case of autographed copies of The Magic Graveyard by Al The Only finally arrived. If you were trying to get a copy but missed out, you can get one now: HERE

Stay safe, Meir

PS: PS: Next week I will be making a pilgrimage to pick up a truck load of products that will eventually meld into my brand and will also shoot what will likely be a fascinating interview… Stay tuned!
ESP FEELER CARDS
MORE INFO & BUY: HERE

This is a set of six ESP Symbol Cards (Rhine Cards) that have been manufactured with the "Feel A Color" principle build into them. This allows you to feel the orientation of the cards, even while they are inside envelopes.

They can be used in many ways and can reproduce routines commonly done with one-way cards… except these can be performed while you are blindfolded or with the cards behind your back.
FUSION COINS
MORE INFO & BUY: HERE

Two coins are examined by your friends (a Quarter and a Penny) as you explain the different metals they are made of.

You then place the Penny on top of the Quarter and after a little squeeze the penny sinks into the quarter and is fused inside. The odd new coin can then be examined.

You pick up the coin, give it a little shake and the penny falls out leaving everything examinable and ordinary.
STRETCHING QUEEN
MORE INFO & BUY: HERE

This is a beautifully clean handling of Peter Kane's brilliant Elongated Lady effect.

You begin by removing three cards from your deck. The Queen of Hearts and the two black nines. All the cards are cleanly shown as you place the Queen face up between the two face down nines. In an eerie visual the Queen begins to stretch to one-and-a-half times its length for an impossible visual.

The Queen is then shrunk back to its normal size and all three cards are cleanly shown on both sides. The Queen can then be given out as a souvenir.
QUICK & CASUAL CLOSE-UP VIDEO
MORE INFO & BUY: HERE

Sol Stone has remained an underground figure in the New York magic scene for more than 50 years. Although many of his routines have been published in various magazines and books, very few magicians have ever seen him perform.

His magic is quick direct and visual. His technique is superb, and he has a "soft touch" which helps make everything he does seem very magical.

This video features some of his favorite routines using coins, safety pins, sponge balls, ropes, balls, and finger rings.

Many professionals have added these routines to their working repertoires–we are sure you will too. Within the explanations Sol teaches the many sleight-of hand techniques used within the routines.