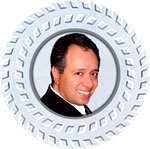 Meir's Muses
MyMagic eNewsletter #834
May 23, 2020
FIRST: I am continuing to ship your orders on a daily basis. Thank you for your continued support.
One of the great benefits of doing these Zoom lectures is getting to see and speak to old and new friends. Friends that I have not seen in years or decades. To be honest, some of them I thought were long gone, but suddenly show up at the lectures.

I also noticed that the interaction with my audiences has gotten much better since we have both been getting practice with this new way of communicating and learning.
The question that keeps popping up is will this new format of doing online lectures for local magic clubs continue beyond the virus restrictions? After all, the clubs are saving a lot of money by not flying me in, housing me, and feeding me.

At the moment, I along with many others, are doing these lectures for free. Will clubs be willing to pay lecture fees in the future? How much would they be willing to pay? Same as a live lecture? A fraction of a live lecture? Double a live lecture?

Or maybe a hybrid where each person pays an attendance fee which will include some digital printed or video lecture notes? We will just have to wait and see…

Upcoming lectures include stops in Canada, England, Switzerland, and the US. I just have to remember whether I make a left at the kitchen or a right!

Rocco Silano, Roy Kueppers, Perry Maynard have joined forces to start a new magic company in Las Vegas: RPR Magic Innovations. Their first release was the gripper coins which have sold well. They just released two new products and I just received an advance shipment of both. I will introduce you to the coin item today and the card item in the next newsletter.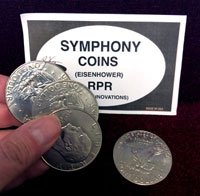 Symphony Coins:
Johnny Wong created/popularized triple coin sets of thin magnetic coins that stick together and can be handled as a single coin.

This set of coins has been reimagined by Roy Kueppers who figured out how to make the coins thinner and still look like full size coins. This allowed for four coins to be handled as one. The advantage of a four-coin set is that you can display them between your fingers (like billiard balls) after producing them.

Available with real US Eisenhower Dollars and real US Kennedy Halves. Includes an instructional video by Rocco.

Watch and buy: HERE
Impossible:
This is a handling of a routine I always liked. The version that Gene Maze and I worked out appears in our Pure Deceptions video. There have been hundreds of versions and variations. The most recent version I liked was one using Emojis that Ronjo marketed.

This version uses colored cards that are marked, which allows for some extra sequences. The card quality is fair but useable. I am also including an extra reference to the instructional link since what they supply will not be accessible to some of you.

Watch and buy: HERE.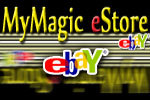 I have 28 auction items expiring tonight. Of particular interest to collectors will be original Willard The Wizard printing plates. The rest of the items are mostly collectible decks of cards.

There is a total of 28 items at auction and more than 200 items in my eBay store.

A direct link to the auction items is: HERE

If you want to visit the store and browse around go: HERE.
Warehouse Finds, Limited Quantities & Great Prices:
This is part of a large Joker Magic inventory I purchased recently. Many of these items are no longer being manufactured and the ones that are will not be restocked. Once they are gone… they are gone!

Still Available:
►Preferred: HERE
►Pass Through Deck: HERE
►Giant Domino: HERE
►Hit The Jackpot: HERE
►Fully Packed: HERE
►BRB Dice: HERE
►Mobile Printer: HERE
►Clone Cube: HERE
►Cube 4 You: HERE
►Ultimate Change: HERE
►Chameleon Deck: HERE
►Boomerang Cards: HERE
►Inexhaustible Pack Of Cards: HERE
►Chinese Coin Bending: HERE
►Color Changing Gum: HERE
►Gum Game: HERE
►Find The Red Card: HERE
►Magnetic Domino: HERE
►Jumbo Chinese Coin Color Change: HERE
►Vanishing Magnetic Mini Deck: HERE
►Ring On A Rope: HERE
►Silk Cube: HERE
►Mystic Wand: HERE
►Plexiglass Prediction: HERE
►Chinese Coin Transformation: HERE

Stay safe, Meir
Upcoming Live Appearances:
► The Magic Bag Of Trix Lecture appearing at magic clubs worldwide during their Zoom meetings.
CAPITULATING QUEENS
MORE INFO & BUY: HERE

This routine has often been referred to as one of the best packet tricks. It has more visual impossibilities than most in its genre.

You cleanly show four queens, explaining that one of them is very special. The first three Queens that are selected are shown to have different colored backs.

The last Queen is cleanly shown to have a blue back as you explain it too is special. The cards are shown again and now they all have red backs except for the last Queen.

As a finale the four Queens are shown to have four different back designs and colors and they can even be handed for examination.
MORE INFO & BUY: HERE
CATCH ME & WIN
MORE INFO & BUY: HERE

Gene Maze's fantastic chain routine combines the Fast & Loose or Endless Chain routines with the classic Three Card Monte and Three Shell Game scams. When the routine was originally published many top pros built their own sets and put it into their shows.

The object is for the spectator to pick the peg that catches. No matter how hard they try they can't find it. Even though you keep making it easier and giving them tips, they always fail. Of course, the secret lies in the fact that you have total control of whether the spectator wins or loses.
MORE INFO & BUY: HERE
MAGICIAN BADGE
MORE INFO & BUY: HERE

This is a real Magician Badge that was fashioned on the badges used by law enforcement agencies around the world. It adds a level credibility to magicians while at the same time adding humor to your introductions. It is a great icebreaker.

The next time you walk up to strangers you can pull out the badge as you say your name and title of Magician. It causes a moment of panic followed by relief and laughter.
RAINBOW PHANTOM CARD
MORE INFO & BUY: HERE

This is one of the most ingenious technologies that has been applied to magic. It was created and patented by Higar and has already been released in many different forms.

Perhaps the best magic application is with playing cards.

My favorite two playing card variants are the Black Rainbow Phantom Card and the Mirror Rainbow Phantom Card. Both work the same way. The card is examinable, but when photographed, the photograph in the spectator's smart phone appears to have turned into the spectator's selection.