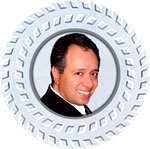 Meir's Muses
MyMagic eNewsletter #868
September 30, 2020
FIRST: I am continuing to ship your orders on a daily basis. Thank you for your continued support.

I would like to thank the many people who purchased my new release. I really like this routine and can't wait to start performing on stage again so I can get the laughs and applauds.
I didn't want to mention who appeared on the trailer in the last newsletter because I wanted you to be surprised. If you didn't get a chance to watch it, I can tell you that in addition to myself you will also see Nick Diffatte, Dave Merry, Jeff Hobson, and Jim Spinnato.

Watch and buy: HERE
Read the last newsletter: HERE

A few weeks ago, I tried to explain why I was really enjoying Al The Only's book, The Magic Graveyard. How do you explain that a book about a cemetery is entertaining and educational? Al agreed to let me reprint an excerpt from the book. I picked a funny story about Tom Mullica that I never knew about and thought you would enjoy. It is also a funny practical joke you might enjoy trying.
I just got another case of autographed books for you. Read the excerpt below:

Magic Graveyard Excerpt:
Tom was a big practical joker. Stephen [Mullica] recalled they used to travel with gift wrapping paper, tape and a variety of greeting cards in the trunk of Tom's car.

Stephen said, "Living with the Thompsons was a great adventure," Pam would host lavish dinner parties and forget to tell them. On one such night she was having a dinner party for Irene Larsen. It was Irene's birthday. Tom and Stephen were without a gift for Irene so Tom went in to Johnny's office and found a framed 8×10 photo of Cardini. Tom took the framed photo from Johnny's desk, wrapped it in birthday paper and attached a card. They added it to the pile of gifts. After dinner, Irene began unwrapping her gifts and she reached for the one from Tom and Stephen. She opened it and exclaimed, "Oh, I've always wanted an autographed photo of Cardini!" The photo went around the table stopping at Pam who remarked how nice it was. When it reached Johnny, he looked at it intensely, then said, "This is mine! You took this from my desk!" All had a great laugh. Then Irene said, "Do I get to keep it?" The laughs continued.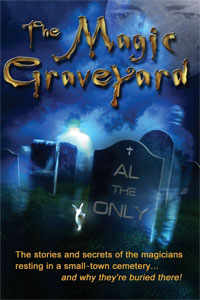 Tom and Stephen pulled a similar prank in Australia when they went to dinner at a friend's house. The hostess had a special duck figurine that she brought from South Africa (there used to be a pair of ducks but one broke on the way over). Tom snuck into the bedroom, took the remaining duck, wrapped it in paper and after dinner presented it to her. She opened it and started smiling saying now she had a pair again. When she went to the bedroom to get the other duck, you could hear her laughter. She came back to the dining room and said, "You got me!"

Buy the autographed book: HERE
Watch a cemetery tour by Karrell Fox: HERE
Read my original thoughts on the book: HERE
Back In Stock:
Origamagic White Crane: HERE

eBay Auctions:
I have a few decks, tricks, a Johnny Thompson thing and a Ricky Jay Playbill expiring on Sunday night. I also added a few dozen slum tricks to the eBay store as "buy now" items.

Direct link to the store: HERE
Direct link to the auction: HERE

Stay safe, Meir

PS: I keep adding more content to MagicTimes. It has surpassed 400 pages of information and I still have more than 15 years of news archives, more than 750 newsletters and a ton of other stuff to add. I figure that at this rate it will take 5-10 years to get all the content I want published.
STROLLING KNIFE ROUTINE
MORE INFO & BUY: HERE

This is a quick and visual color changing knives routine with multiple phases that keep getting more impressive and more impossible.

You begin with a single red knife. As you wave your hand over it, it keeps changing color to white. This is done several times until you explain that you cheated by using a second knife that is hidden under your wristwatch.

To demonstrate the impossibility, you place the red knife under your watchband and the white one in your fist. They magically change places. You then place one in each hand and they change places, and as a finale you place the white knife in the spectator's hand and the red one in yours. Under impossible conditions they change places.
CARD SILK SET
MORE INFO & BUY: HERE

There are many routines published, recorded, and marketed using card silks. A card silk is a silk scarf with a picture of a playing card on it.

Of the many published routines, the most engaging are the ones that use two silks. One with a blank card pictured and one with a playing card. This two-silk set allows you to present sucker like routines with you missing and then making good. It is also an excuse to magically change one silk into another.

Our silk set which is ideal for Thumb Tip use includes two 9-inch silks: A full-color blank card and a full-color King of Hearts card.