Meir's Muses
MyMagic eNewsletter #1,086
March 4, 2023
Higar's Rainbow Phantom Cards were revolutionary, but magicians were not the only ones who thought so. That is why Sony purchased the rights to the technology but luckily, they let him continue to make the magic tricks.
So, when I heard he just released his take on the classic Diary trick, that was a big hit in Japan, I had to see what he added to it. It uses a single diary, a regular deck, and a clever, hidden, mathematical system that gets you to the correct card in an easy, direct, and clean manner.
Once the spectator tells you their birthdate you can immediately locate and force the card at their date. It is almost automatic, and you don't even know what card it is until the spectator looks it up.
The only thing I would consider changing is to make your own handwritten weekly diary instead of the printed monthly diary that comes with it.
►Card Of Destiny:
This is a very clever system used to do the classic diary trick using one calendar and one deck of cards. It is also very easy and does not require any memory work.
You begin by handing the spectator a monthly day planner (also known as a diary or calendar) which has different names of playing cards written on each date.
You then show a deck of cards and shuffle it a few times as you ask your spectator to name any date.
The spectator then selects a card and places it aside. When they look through the diary to see what card is on their date, it turns out to be the same card that was just selected.
Watch and buy: HERE
Along with the shipment of diaries I also received more of the Rainbow Cards in both versions and different force cards. If you are looking for anything specific take a look at our inventory.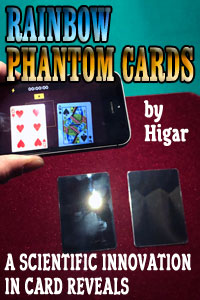 ►Rainbow Phantom Cards:
This is one of the most ingenious technologies that has been applied to magic. It was created and patented by Higar and has already been released in many different forms.
My favorite two playing card variants are the Black Rainbow Phantom Card and the Mirror Rainbow Phantom Card. Both work the same way. The card is examinable, but when photographed, the photograph in the spectator's smart phone appears to have turned into the spectator's selection.
Watch and buy: HERE
►The Accumulator Deck:
You spread the cards and show them to be all different. As you spread them again you have one spectator look at and remember a red card, and another remember a black card. Someone then names a number between one and fifty-two.
You cut to the first spectator's card even though they never tell you the identity of the card. You then count down to the number that is freely named, and the second spectator's card is at that number!
Watch and buy: HERE
►Transporter Card:
This is a beautiful visual where the middle of your finger seems to turn invisible.
You show a card with two holes that you put your finger through. You cover the middle of your finger for just a moment, and it disappears. You then remove your finger from the card and the center of your finger reappears. It's a quick illusion with eye popping visuals.
Watch and buy: HERE
►OUR LATEST RELEASE:
►Countdown Coins:
Many years ago, Rocco came up with a coin gimmick that can be used to display four US Quarters while instantly changing to three Quarters, then two, and finally one Quarter, it can also be shown in reverse, going from one to four Quarters. The displays can be made one handed which allows for a very clean in the hand's coins across.
The utility device can be used for many different routines, both stand-up and close-up. The tutorial includes easy, intermediate, and advanced coin routines that are taught by Rocco Silano, Dr. Michael Rubinstein, and Meir Yedid.
Watch and buy: HERE
►UPCOMING APPEARANCES:
►Sunday March 26, 4pm: Appearing in Comix at the Mohegan Sun Casino in Connecticut. Tickets: HERE
Stay happy, Meir
PS: Looks like I am around 1-2 weeks away from a new card release.
"Isn't it the oldest and simplest tricks that make the biggest impression on the audience?"
…Burling Hull (33 Rope Ties and Chain Releases, 1915)