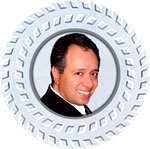 Meir's Muses
MyMagic eNewsletter #823
April 1, 2020
FIRST: I am continuing to ship your orders on a daily basis. Thank you for your continued support.
I have watched more live lectures and talks by magicians on Facebook than ever before. Most of the ones I chose to watch were excellent and I was inspired to try some stuff. I think we should all take advantage of these free opportunities while we have the time. The viewership was also more than these lectures get at live events and I understand that sales for the artists during and after the lectures were excellent.

I have also heard that some magicians are customizing live events to be streamed into people's living rooms and their regular customers don't mind paying for that. This could bring a resurgence of interactive magic and finally give "YouTube Magic" another new commercial outlet. Oh… and you don't have to worry about the stuff being examinable!

Since I announced that I was planning to release my routines using Higar's brilliant Rainbow Phantom Cards I received many inquiries about when it will be out.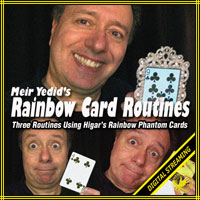 I was hoping to get a large shipment of the Black and Mirror cards and release the video in conjunction with that announcement. Although I am still having trouble getting the Mirror cards, I did get a shipment of the black ones. So, I am releasing the download today…

Rainbow Card Routines:
I decided not to do a trailer for this tutorial since this is basically a card reveal and the presentation and handling will be easily figured out since you already know the method.

The 20-minute download teaches the three routines I use most often. If you saw me at my booth or attended one of my showcases in the past few years, you would have probably seen me performing these routines.

I will be teaching my Rainbow Cut Card Routine, Rainbow Doctor Who Routine, Rainbow Wonder Mirror Routine, and Trevor Lewis' Swivel Force Swindle. A description of the routines can be found on my website.

Get the download: HERE.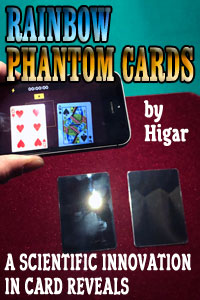 Rainbow Phantom Card:
Like I said, I do have around a deck worth of black cards in stock. When ordering please let me know what force card you already have so I don't send you a duplicate.

Remember, when purchasing these cards from me, you get an exclusive video tutorial that explains how to use them and what you can do with them. Watch the trailer to learn what they are and what they do.

Watch and buy: HERE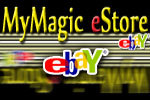 Added more collectible decks of cards to my eBay auctions which all expire on Sunday evening.

There is a total of 35 items at auction and more than 200 items in my eBay store.

A direct link to the auction items is: HERE

If you want to visit the store and browse around go: HERE.

Warehouse Finds, Limited Quantities & Great Prices:
This is part of a large Joker Magic inventory I purchased recently. Many of these items are no longer being manufactured and the ones that are will not be restocked. Once they are gone… they are gone!

►Magnetic Knotting Handkerchiefs:
The classic routine done with magnets instead of the traditional rubber bands.

Info and buy: HERE

Still Available:
►Pass Through Deck: HERE
►Vanishing Cardbox: HERE
►Giant Domino: HERE
►Hit The Jackpot: HERE
►Fully Packed: HERE
►Twin Cards: HERE
►BRB Dice: HERE
►Diamond Extra: HERE
►Mobile Printer: HERE
►Clone Cube: HERE
►Cube 4 You: HERE
►Ultimate Change: HERE
►Chameleon Deck: HERE
►Boomerang Cards: HERE
►Penhenge Sharpie: HERE
►Inexhaustible Pack Of Cards: HERE
►Chinese Coin Bending: HERE
►Color Changing Gum: HERE
►Gum Game: HERE
►Find The Red Card: HERE
►Magnetic Domino: HERE
►Jumbo Chinese Coin Color Change: HERE
►Vanishing Magnetic Mini Deck: HERE
►Ring On A Rope: HERE
►Silk Cube: HERE
►Mystic Wand: HERE
►Plexiglass Prediction: HERE
►Chinese Coin Transformation: HERE

Stay safe and don't forget to watch the new David Blaine TV Special tonight,

Meir
Upcoming Live Appearances:
► Nothing!
SIX TO ONE DICE
MORE INFO & BUY: HERE

This is a visual and impromptu routine using any borrowed dice. It is based on Les Scheyer's "A Dice Interlude" but uses a slightly simpler method and an additional backward phase.

You begin by explaining that the best way to tell if a set of dice are real and not tampered with is to add up the opposite sides of the dice to make sure that they all total to seven.

You then explain that even using real dice a sleight of hand artist can make you see any number they like. You demonstrate this by showing that the dice have one, two, three, four, five, and six on opposite sides. To further prove your point, you go backwards by showing 6-5-4-3-2-1 on opposite sides instead of the known numbers.
CATCH ME & WIN
MORE INFO & BUY: HERE

Gene Maze's fantastic chain routine combines the Fast & Loose or Endless Chain routines with the classic Three Card Monte and Three Shell Game scams. When the routine was originally published many top pros built their own sets and put it into their shows.

The object is for the spectator to pick the peg that catches. No matter how hard they try they can't find it. Even though you keep making it easier and giving them tips, they always fail. Of course, the secret lies in the fact that you have total control of whether the spectator wins or loses.
MAGICIAN BADGE
MORE INFO & BUY: HERE

This is a real Magician Badge that was fashioned on the badges used by law enforcement agencies around the world. It adds a level credibility to magicians while at the same time adding humor to your introductions. It is a great icebreaker.

The next time you walk up to strangers you can pull out the badge as you say your name and title of Magician. It causes a moment of panic followed by relief and laughter.
ORIGAMAGIC WHITE CRANE
MORE INFO & BUY: HERE

The effect: A white tissue is crumpled into a ball and tossed from hand to hand. As it is being tossed it visually begins folding itself into an origami crane!

This outstanding effect comes from Japan and uses the latest in fabric technology that does all the work for you. It is easy–self-working and requires no skill at all.