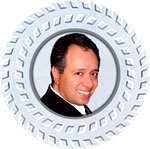 Meir's Muses
MyMagic eNewsletter #873
October 21, 2020
FIRST: I am continuing to ship your orders on a daily basis. Thank you for your continued support.

You may have noticed that I have written a lot about color changing knives in the past few months and offered many routines and variations. A few months ago, Terry Broshears asked me if I would be interested in having him make me some "Venue Approved" knife sets.

I had no idea what he was talking about and decided to educate myself on the various laws and restrictions on knife carrying around the world. It turns out that every country, state, province, city, and even local regions can have their own laws. We all know that you are not allowed to carry a knife on a plane but what about clubs, arenas, or any venue that has a metal detector?
After all the reading (and there are tons of sites online that are dedicated to this) I now know that the ideal "Venue Approved" size is a knife whose blade is two-inches long and sharp on only one side. This is true for every state in the US except Massachusetts!
Although these laws are rarely enforced and when they are it is usually an add-on charge to a bigger crime where the 3-inch knife could be considered a weapon. Even so, any bouncer can make their own rules… It is better to be safe than sorry.

Venue Approved Hot Rod Knife:
These are hand-made 2.75" pocketknives with 2" blades. Besides being hot rod knives, that you can do magic with, you can also use them as sharp everyday knives that you can safely carry with you.

Each knife is unique in design and can become a conversation piece.

Get one: HERE
Swindle:
This routine has been very popular lately because it is easy and simple to follow. You show two tin cans and let a spectator select one. The one they end up with has junk inside while the one that is left for you is full of cash.

There are several routines and variations explained but the one with the three-step process is my favorite.

Watch and buy: HERE
Houdini Museum Tour: Episode Two:
Episode Two, centers around Houdini's marketing skills and Escape Challenges. I decided to make the episodes a little shorter, so they are more easily absorbed.

Roger Dreyer told me that the New York City location no longer exists. It took the movers 23-hours to pack, load, and unload the massive collection. Roger and his team are currently unpacking and rebuilding the Museum in New Jersey where a television crew will be visiting it next week.

Watch episode two: HERE

eBay:
13 Auctions ending on Sunday: HERE
233 Collectibles in the store: HERE

Stay safe, Meir

PS: Would any of you be interested in venue approved color-changing knives? Let me know if you would want some, especially taillight versions.
GIGANTIC COMEDY PREDICTION
MORE INFO & BUY: HERE

This is an ideal stand-up routine with intrinsic situational comedy. Even if you are not a comedian the situational comedy that is built into the routine will always get you laughs. But not just laughs… The magic is strong and there is even a duel reality ending where the spectator and the audience experience two different effects and both are impactful!

Comes complete with a Gigantic Prediction Card (10.5" x 15") that is transformational, a set of Jumbo Forcing Cards (5" x 7"), and access to a 30-minute video tutorial featuring Meir Yedid, Jim Spinnato, Rick Wilcox, and George Schindler.
CARD SILK SET
MORE INFO & BUY: HERE

There are many routines published, recorded, and marketed using card silks. A card silk is a silk scarf with a picture of a playing card on it.

Of the many published routines, the most engaging are the ones that use two silks. One with a blank card pictured and one with a playing card. This two-silk set allows you to present sucker like routines with you missing and then making good. It is also an excuse to magically change one silk into another.

Our silk set which is ideal for Thumb Tip use includes two 9-inch silks: A full-color blank card and a full-color King of Hearts card.