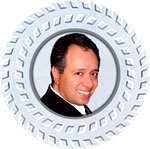 Meir's Muses
MyMagic eNewsletter #890
December 23, 2020
I hope that many of you had a chance to see my new lecture last night. I always have fun sharing my magic. According to Facebook it has been watched by around 1,500 magicians so far. The IBM agreed to leave the recording on their Facebook page for 2-3 more days. So, if you have not seen it yet go: HERE

What are you waiting for? Watch the FREE lecture: HERE

The running order of the lecture was:
►Paul Hallas' ESPecially Wild (performance only)
►Rebalanced Business Card (appears in Published & Unpublished)
►Tip Top Aces (appears in Memorable Magic)
►Point The Way (appears in Memorable Magic)
►Arrows (unpublished)
►Biting Sensations (appears in Memorable Magic and a marketed item)
►Riem Rise (appears in Published & Unpublished)
►Riem Principle (appears in Published & Unpublished)
►Riem Assembly (appears in Published & Unpublished)
►Parade Of Jacks (marketed item)
At the end of the lecture, I offered everyone a special lecture package that if purchased separately would cost US $105 but as a special bonus they could have it all for $50 ppd. in the US or $65 ppd. anywhere in the world.

I am extending that lecture offer to all of you as well. The special package will expire at the end of the year. Dec. 31, 2020 at midnight or when I run out. Limited supply.

Get the package: HERE

If you are interested in a specific product only. Here are the links:
►ESPecially Wild: HERE
►Published & Unpublished DVD: HERE
►Memorable Magic: HERE
►Biting Sensations: HERE
►Parade Of Jacks: HERE

eBay:
Auctions ending on Sunday night include Slum magic, cards, and books.
►28 Auctions ending on Sunday: HERE
►239 Collectibles in the store: HERE

I am going to try to send you one more newsletter this year, but if not, please have a happy and safe holiday and new year.

And I hope the next time we see each other will be live,

Meir

PS: Around 100 of these newsletters are now archived at MagicTimes.com. A direct link to the Newsletter section: HERE
SMILEYS
MORE INFO & BUY: HERE

You start by explaining that there is an old expression that "people wear their emotions on their sleeve", but magicians wear their emotions on their coins!

You draw a sad face on the face of a half dollar and then… to make the coin feel better you tickle the coin, and it begins smiling when the sad face changes to a happy one! Another tickle, and the coin changes to a yellow smiley face! One last tickle, and the smiley face becomes a big smiley face, bringing a big smile to everyone.
GIGANTIC COMEDY PREDICTION
MORE INFO & BUY: HERE

This is an ideal stand-up routine with intrinsic situational comedy. Even if you are not a comedian the situational comedy that is built into the routine will always get you laughs. But not just laughs… The magic is strong and there is even a duel reality ending where the spectator and the audience experience two different effects and both are impactful!