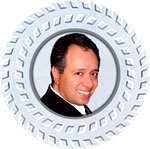 Meir's Muses
MyMagic eNewsletter #863
September 9, 2020
FIRST: I am continuing to ship your orders on a daily basis. Thank you for your continued support.
I hope you liked the Taillight Color Changing Knives from last week. I think they are a perfect conversation starter.
I first began doing a knife routine when I started table hopping and heard that Bruce Cervon had a perfect intro with them. He would walk up to a table and ask if they lost this red knife? When they said no. He would continue… How about this white one? And that led into his routine.

I worked hard and came up with a semi-original routine and tried it out. It worked, but not as well as I expected. My first regular gig was at a Chinese restaurant in Harlem which used to be a tough neighborhood in the 1970s. At least once a night someone would say yes, that's my knife, and try to grab it.

I published my one creative knife sequence in my book Magical Wishes and used to teach my full routine at my lectures. I recently started playing with my old routine, using the new knives, and will likely shoot a download teaching it this week.

Watch and buy: HERE
Ouija Pin:
For the past few months Rich Micucci has been working on a Ouija Lapel Pin. His idea kept evolving until it became something completely different. Instead of having a pin back he decided to use a magnetic system. He then started adding design elements and tricks.

I think that the best use he came up with is to remove it off your clothing and use it to find the location of a secret or hidden item. There are many ways to do that but the one he prefers is to have a selected card marked on its edge and back so it can be spotted in a shuffled deck. You then use the Ouija Pin (by moving it around Ouija style having it point to the correct spots) to eliminate all the other cards until it finds the selection.

This could have easily been marketed as an expensive magic trick, but Rich decided to put it out as just a pin with no instructions for a fraction of the cost. It is also a beautiful piece of jewelry.

Watch and buy: HERE
EBay Sunday:
I currently have 55 items at auction on eBay that will be expiring on Sunday night. Mostly slum magic and rare decks of cards.

A direct link to the auction: HERE

Stay safe, Meir

PS: I would highly recommend you watch Harrison Greenbaum's live interview with Harry Lorayne tonight (Wednesday 7pm ET) at: facebook.com/IBMMAGIC
SHELLED COINS ACROSS
MORE INFO & BUY: HERE

The Coins Across routine is a classic of magic that has stood the test of time. Some of the reasons it is a classic is that the routine is easy to follow, impossible to reconstruct, it has built in repetition that forces the spectators to pay greater attention and focus on the magic as the routine builds to an ending.

The three best routines I have ever seen were invented by friends of mine: David Roth's Shell Coins Across, Derek Dingle's Silver Quick, and Michael Gallo's Easy Coins Across. The good news is that by purchasing this video download you will be able to learn all three outstanding routines which are performed and explained by the creators.
ESP FEELER CARDS
MORE INFO & BUY: HERE

This is a set of six ESP Symbol Cards (Rhine Cards) that have been manufactured with the "Feel A Color" principle build into them. This allows you to feel the orientation of the cards, even while they are inside envelopes.

They can be used in many ways and can reproduce routines commonly done with one-way cards… except these can be performed while you are blindfolded or with the cards behind your back.