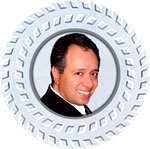 Meir's Muses
MyMagic eNewsletter #808
February 8, 2020
The booth next to mine at the SAM Convention was manned by Doug Ries. Since we had a lot of free time together, we started to discuss the machinery he has at his workshop and the products he could produce made out of wood, plastic, and other similar materials. You never know what will come of this as the R&D could take months or even years before anything happens.

But until then he agreed to let me offer you one of the products he designed. It is a simple side table that is easy to assemble and transport. It literally packs flat. I even shot a video trailer for it. Take a look: HERE.

I usually avoid carrying large or heavy products because of my free postage policy, but I thought I would give it a shot and see how much of a hassle it is and how much money I could lose doing it.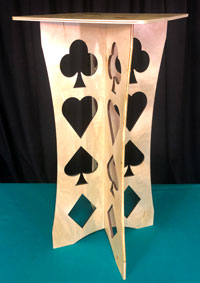 Pack Flat Side Table:
This is a handy side table that can be easily carried, transported and used during shows while on the road. It is 24-inches high, which makes it ideal for young magicians, but is also perfect to display various props and prop cases during your show.

It is also short enough to use as a side table during close-up performances while seated.

When assembled it is 24-inches high and 12-inches square. It is made from a quarter inch Birch wood with a lacquer finish and weighs around 2-lbs.

Watch and buy: HERE.
The three items that I immediately sold out of a few weeks ago are on their way from the UK and FedEx is supposed to deliver them on Tuesday. If you want to guarantee getting one please sign up for notifications.

Please note that in order for the notification system to work you must sign into your MyMagic account or create one.

► Deadly Marked Deck: HERE.
► Misindexed Gaff Set: HERE.
► Clear Queen: HERE.

One of the projects I was working on, disappointingly, fell through but on the bright side I will have a lot more time now to work on new stuff.

Stay tuned, Meir
Upcoming Live Appearances:
►Feb 22-25: Attending the New York Toy Fair in New York City.
►Feb 23: Attending the USPC Party in New York City.
►Feb 23: Attending the annual Inventor's Party in New York City.
►Mar 7: Exhibiting at NEMCON in Farmington, CT. Info: HERE.
►Mar 29: Lecturing at Mingus Magic in Reading, PA. Info: HERE.
►Apr 5: Exhibiting at the Real Magic Roadshow in Boston, MA. Info: HERE.
MAGICIAN BADGE
MORE INFO & BUY: HERE

This is a real Magician Badge that was fashioned on the badges used by law enforcement agencies around the world. It adds a level credibility to magicians while at the same time adding humor to your introductions. It is a great icebreaker.

The next time you walk up to strangers you can pull out the badge as you say your name and title of Magician. It causes a moment of panic followed by relief and laughter.
PING PONG BALL VASE
MORE INFO & BUY: HERE

A beautiful hand spun Ping Pong Ball Vase made of a single piece of exotic wood. It comes with a Ping Pong ball and a matching shell (ball vase type).

This is one of the few Ball Vases that uses a recognizable object, or what is termed an organic prop. Since the popularity of Beer Pong, that uses the same balls, has far surpassed the popularity of Table Tennis this has become a very common object.
MIRROR MIRACLE
MORE INFO & BUY: HERE

This is a quick routine using four cards that appear to be all the same, then magically transform to look the same on both sides and finally all four cards are shown to have mirror faces–It's all done with mirrors–Of course.

Includes a relaxed, humorous presentation and can be performed with a freely selected and signed card.
CATCH ME & WIN
MORE INFO & BUY: HERE

Gene Maze's fantastic chain routine combines the Fast & Loose or Endless Chain routines with the classic Three Card Monte and Three Shell Game scams.

The basic routine starts out with a wooden stand holding three pegs or posts. A chain is then wrapped around all the pegs as you explain that when the chain is pulled one peg will always catch while the other two will not. If they pick the peg that catches, they win.

No matter how hard they try they can't find it. Even though you keep making it easier and giving them tips, they always fail or win. You have total control.