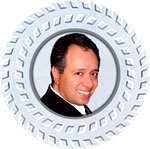 Meir's Muses
MyMagic eNewsletter #803
January 11, 2020
I am usually very suspicious of the video trailers for magic tricks I see these days. Many of these tricks were specifically made to be performed for a video capture and shared online as opposed to performing them for live spectators with two eyes and a head that can move from side to side.

I, like you, get conned into buying them, but I feel guilty selling them to you, so they end up in a pile on my desk for a future eBay liquidation. You can often see these products as part of the big sales other magic companies have several times a year.
So, I was hesitant to get Roddy McGhie's Stargate because the trailer looked too good. But was pleasantly surprised that it is simple to do and looks just as good live as what you see in the trailer. Take a look: HERE.

Stargate:
An impossible looking illusion where a Sharpie marker is pushed through an empty card box, and then separates into two pieces that seem to be still connected to each other.

Watch and buy: HERE.
Pet Die:
Around a thousand of you followed the link from the last newsletter and watched my interview with Sol Stone. As promised, I am now sharing his performance of the original Radical Dice routine, which he came up with when he was around 15 years old… that is 82 years ago!

This version did not use the special dice but does use the same techniques. If you already own Radical Dice or his book, you will already be able to do this version (although I would avoid the original patter). If you don't own Radical Dice, and I don't know why you wouldn't, you can still get it…

Watch the performance on the MyMagic Facebook page: HERE.

Watch and buy Radical Dice: HERE.
I should mention that I am publishing these videos on the MyMagic Facebook page and not on my personal page. If you don't already follow (and like) that page you should, since that is where I archive these newsletters and will continue to publish the interviews and videos. Go to the MyMagic Facebook page: HERE.
Penny Pour:
The response to this collectible has been excellent and I finally sold out of them. But I had nine of the paddles left, without the steel pennies and jumbo coin. So, I had to get more. The jumbo coin was easy but when I was looking for the steel pennies, I encountered a pretty good opportunity and went with it.

As with almost all coin tricks that use a penny that is attracted to a magnet you get a 1943 steel penny that has been copper plated. What I was able to get is new 2016 pennies that have been gaffed to contain a steel core. The labor it takes to make these is ridiculous. But I have nine sets…

Watch and buy: HERE.
By the way, if you ever find a 1944 steel penny it is worth a fortune to collectors.

I should also mention that I will be performing a short spot on the main show at Jeff McBride's Wonderground on Thursday the 16th in Las Vegas. If you are in Vegas, you might want to catch the shows. Should be a blast. Info: HERE.

I am also looking forward to meeting some of you at the SAM Convention in Las Vegas on the 18th-21st. I am told that there has been a spike in registrations this week and the attendance is much higher than projected. Please stop by my booth. Info: HERE.

Until next time, Meir
Upcoming Live Appearances:
►Jan 16: Performing at Jeff McBride's Wonderground in Las Vegas. Info: HERE.
►Jan 18-21: Exhibiting at the SAM National Convention in Las Vegas. Info: HERE.
MAGICIAN BADGE
MORE INFO & BUY: HERE

This is a real Magician Badge that was fashioned on the badges used by law enforcement agencies around the world. It adds a level credibility to magicians while at the same time adding humor to your introductions. It is a great icebreaker.

The next time you walk up to strangers you can pull out the badge as you say your name and title of Magician. It causes a moment of panic followed by relief and laughter.

This badge was designed and manufactured from scratch. The amount of magical detail is incredible. If you look closely you will see Doves, Cups & Balls, Magic Wands, Playing Cards, Japanese Coins, and even two different reveals you can incorporate into your routines.
IMPROMPTU CARD MAGIC VOLUME 1-6 DOWNLOAD SET
MORE INFO & BUY: HERE

Card magic you can do anytime, anywhere, at a moment's notice. All you need is any deck of cards and you're ready to perform high-impact routines.

The monumental, eight-hour, Impromptu Card Magic video series includes 90 easy to learn, easy to perform routines. No gimmicks, no setups, no difficult sleight of hand. This is amazing card magic with maximum effect, even though many of the routines are so easy they could be considered self-working.

Don't let the simplicity of methods give you the wrong impression. The routines taught are professional caliber and can easily entertain and fool the most knowledgeable audiences.

With this video set and any borrowed deck of cards, you can instantly perform card magic that looks absolutely impossible. No matter what level of skill you've achieved, you'll find routines you can quickly add to your repertoire.