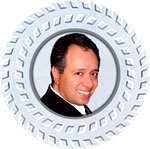 Meir's Muses
MyMagic eNewsletter #828
April 19, 2020
FIRST: I am continuing to ship your orders on a daily basis. Thank you for your continued support.
It was an eventful week as far as reaching out on social media is concerned and I appreciate all the nice comments. I never realized I was inspirational, but that was the most consistent comment I got… I guess I can sound that way sometimes.
If you missed my appearances, this is what I look like now. Both shows are now archived so you can watch or listen to them at your leisure:

►The Magic Word Podcast #555: HERE

►The Quarantine Talk Video: HERE

I mentioned during the video that I put together a 30-minute lecture/showcase that I am booking online for local magic groups who are now holding their meetings on Zoom. The live event is free and will change with each group. It is titled "Meir Yedid's Bag Of Trix Lecture" and is basically the tricks I carry with me for impromptu opportunities plus some card stuff. If your club is interested in booking it, please let me know so we can schedule a date. I am doing it for free in hopes of encouraging more magicians to sign up for my newsletters.

I have been offering you a lot of the Joker Magic products that I acquired, and I am slowly reaching the end of the inventory. Along the way I have learned a lot of interesting things. The one thing that never occurred to me is the differences in the holes on Chinese coins. Take a look at these two. Can you spot the difference?
I didn't either. But it turns out that the one on the left has a round hole and the one on the right has a square hole.

Why is that important? Well if you make a shell to fit over the round hole it fits perfectly. If you make one to fit over the square hole their will be some overlap. As seen in these two photos.
It turns out I have two sets of each and if you want one, or both you can get them now. A set consists of four regular coins with a matching shell.

Take a look and buy: HERE.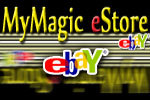 Lately my eBay store has been outperforming my magic site so I added more collectible decks of cards to my eBay auctions which will expire on Sunday evening.

There is a total of 31 items at auction and more than 200 items in my eBay store.

A direct link to the auction items is: HERE

If you want to visit the store and browse around go: HERE.
Warehouse Finds, Limited Quantities & Great Prices:
This is part of a large Joker Magic inventory I purchased recently. Many of these items are no longer being manufactured and the ones that are will not be restocked. Once they are gone… they are gone!

Still Available:
►Color Changing Pyramid: HERE
►Preferred: HERE
►Pass Through Deck: HERE
►Vanishing Cardbox: HERE
►Giant Domino: HERE
►Hit The Jackpot: HERE
►Fully Packed: HERE
►BRB Dice: HERE
►Diamond Extra: HERE
►Mobile Printer: HERE
►Clone Cube: HERE
►Cube 4 You: HERE
►Ultimate Change: HERE
►Chameleon Deck: HERE
►Boomerang Cards: HERE
►Penhenge Sharpie: HERE
►Inexhaustible Pack Of Cards: HERE
►Chinese Coin Bending: HERE
►Color Changing Gum: HERE
►Gum Game: HERE
►Find The Red Card: HERE
►Magnetic Domino: HERE
►Jumbo Chinese Coin Color Change: HERE
►Vanishing Magnetic Mini Deck: HERE
►Ring On A Rope: HERE
►Silk Cube: HERE
►Mystic Wand: HERE
►Plexiglass Prediction: HERE
►Chinese Coin Transformation: HERE

Stay safe, Meir
Upcoming Live Appearances:
► The Magic Bag Of Trix Lecture appearing at magic clubs worldwide during their Zoom meetings.
CAPITULATING QUEENS
MORE INFO & BUY: HERE

This routine has often been referred to as one of the best packet tricks. It has more visual impossibilities than most in its genre.

You cleanly show four queens, explaining that one of them is very special. The first three Queens that are selected are shown to have different colored backs.

The last Queen is cleanly shown to have a blue back as you explain it too is special. The cards are shown again and now they all have red backs except for the last Queen.

As a finale the four Queens are shown to have four different back designs and colors and they can even be handed for examination.
CATCH ME & WIN
MORE INFO & BUY: HERE

Gene Maze's fantastic chain routine combines the Fast & Loose or Endless Chain routines with the classic Three Card Monte and Three Shell Game scams. When the routine was originally published many top pros built their own sets and put it into their shows.

The object is for the spectator to pick the peg that catches. No matter how hard they try they can't find it. Even though you keep making it easier and giving them tips, they always fail. Of course, the secret lies in the fact that you have total control of whether the spectator wins or loses.
RAINBOW CARD ROUTINES
MORE INFO & BUY: HERE

Higar's Rainbow Phantom Cards are among the most ingenious technologies that has been applied to magic. I have been performing with them for years and on this video tutorial I will teach my three favorite routines. These are routines that I use. Two of them are close-up routines and one is used when I am performing formal close-up or stand-up.

Taught are Meir Yedid's Rainbow Cut Card Routine, Rainbow Doctor Who Routine, Rainbow Wonder Mirror Routine, and Trevor Lewis' Swivel Cut Swindle.

The spectator's face is always framed with the reveal and saved on their phone. And most importantly every time they look at the picture, they will be reminded of you and your performance.
MAGICIAN BADGE
MORE INFO & BUY: HERE

This is a real Magician Badge that was fashioned on the badges used by law enforcement agencies around the world. It adds a level credibility to magicians while at the same time adding humor to your introductions. It is a great icebreaker.

The next time you walk up to strangers you can pull out the badge as you say your name and title of Magician. It causes a moment of panic followed by relief and laughter.