Meir's Muses
MyMagic eNewsletter #923
April 21, 2021
I wanted to play catchup instead of introducing a new item this week. Have already heard from some purchasers of the Flat Dice on how much they are enjoying it. The ones that just arrived are the end of them until more can be manufactured. Below are some of the other recent items that you should get that are back in stock.
►Flat Dice:
This is a devious three-phase routine using a unique set of nine flat dice which only have two surfaces. You can present it as magic or mentalism. You can use all the dice for all three phases or use each phase as a stand alone routine. The possibilities are endless as no matter how many times the spectator rolls the dice you will know their total while your back is turned.
The method is self-working and uses some simple math that is completely hidden within the presentation. To get the information all you must do is casually ask a seemingly simple and unrelated question that allows you to figure out the totals. You will love doing this.
Watch and buy: HERE
►Plasma:
Plasma is a cleverly designed Zippo lighter which you can push a borrowed pen, pencil, cigarette, or similar items through its center.
You are taught three different routines you can use it for: Wrap the lighter with a paper or tissue and push a pencil through it, do it out in the open without any cover, or you can perform the now classic routine where you push a pen through a small box and when the box is opened a solid lighter is found inside.
Watch and buy: HERE
►Business Card Penetration Frame:
This is a beautiful version of a classic that is made of plastic but has been vacuum metalized to look like gold colored chrome. It is also a little smaller than most card frames which makes it lighter and easier to carry and becomes an ideal routine to do with borrowed business cards.
The tutorial includes a bonus routine where a spectator is handed a glass or bottle. The frame is put on top of the glass and a pencil is pushed through the glass, so it becomes encased in the glass or bottle. Everything is once again examinable.
Watch and buy: HERE
►Quiver:
Kelvin Chow has designed one of the best and cleverest switching coin purses. It functions the same way as the classic change bag. What makes it special is that it can be handed to a spectator to open and they will always open it to the main compartment. You will be the only one who can open it to the secret compartment.
Watch and buy: HERE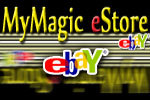 ►eBay:
I have 16 items at auction that are expiring on Sunday night that I think you might like. I started listing the rare plates and statues from the Ron Wohl gambling collection.
►Direct auction link: HERE
►MyMagic eBay Store: HERE
Stay safe, Meir
PS: Was sorry to hear that Monsignor Dermot Brennan passed away this week at the age of 90. He was an active part of Tannen's in the 1970s and 1980s.