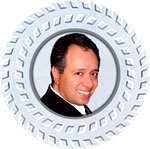 Meir's Muses
MyMagic eNewsletter #869
October 3, 2020
FIRST: I am continuing to ship your orders on a daily basis. Thank you for your continued support.
A while ago I programed my phone to play a cash register sound every time someone places an order (not an original idea). My friends find it entertaining. One time I was having lunch with Harry Anderson and it was going off every few minutes and he made a wise crack of me being like an investor tracking the market, but later made a very astute observation. He said that this is like therapy for me, giving me positive reinforcement for what I am doing. And he was right. Every time I hear that cash register sound it puts a smile on my face.
The reason I mention that is that last Thursday I came out of the shower and noticed my phone going crazy doing cash register impressions, cha ching, cha ching…

And everyone was ordering my new Gigantic Comedy Prediction. Turns out that Jeff Hobson surprised me with an unbelievable endorsement of the routine in his newsletter. You can read it and subscribe to it: HERE

To find out more and watch the trailer go: HERE

You will also notice some new endorsements by Jeff McBride, Cody Fisher and Stephen Bargatze.

Watch and buy: HERE
Quantum Coins And Cards:
This is RPR's latest release. After their previous Symphony Coins and Polarity Cards were released, many people, including me, immediately realized that you can combine those two tricks to create a great matrix routine. I remember Al Faria putting one out in the 1980s using four coins and two bills.

What Greg Gleason and RPR did is take that idea one step further by adding camouflage to the coins to make this as clean looking a matrix as you can imagine, and it is practically self-working. They also include some other nice handlings; I especially liked the coin through glass top table.

But keep in mind that because of the camouflage the basic matrix routine cannot easily be done too close. It is however ideal for use over video conferencing, formal close-up, TV and on stage where you are projecting the magic.

Watch and buy: HERE
Back In Stock:
Symphony Coins: HERE
Polarity Cards: HERE

eBay Auctions:
I have a few decks, tricks, a Johnny Thompson thing and a Ricky Jay Playbill expiring on Sunday night. I also added a few dozen slum tricks to the eBay store as "buy now" items.

Direct link to the store: HERE
Direct link to the auction: HERE

Stay safe, Meir
PS: Did you watch my interview with Harry Lorayne from 2018? It was fun. Take a look: HERE
GIGANTIC COMEDY PREDICTION
MORE INFO & BUY: HERE

This is an ideal stand-up routine with intrinsic situational comedy. Even if you are not a comedian the situational comedy that is built into the routine will always get you laughs. But not just laughs… The magic is strong and there is even a duel reality ending where the spectator and the audience experience two different effects and both are impactful!

Comes complete with a Gigantic Prediction Card (10.5" x 15") that is transformational, a set of Jumbo Forcing Cards (5" x 7"), and access to a 30-minute video tutorial featuring Meir Yedid, Jim Spinnato, Rick Wilcox, and George Schindler.
CARD SILK SET
MORE INFO & BUY: HERE

There are many routines published, recorded, and marketed using card silks. A card silk is a silk scarf with a picture of a playing card on it.

Of the many published routines, the most engaging are the ones that use two silks. One with a blank card pictured and one with a playing card. This two-silk set allows you to present sucker like routines with you missing and then making good. It is also an excuse to magically change one silk into another.

Our silk set which is ideal for Thumb Tip use includes two 9-inch silks: A full-color blank card and a full-color King of Hearts card.