Meir's Muses
MyMagic eNewsletter #1,127
August 12, 2023
Back from Magic Live. Had fun, spent time with old friends and made a bunch of new ones. Sold-out of a few items and was able to purchase hundreds of pounds of magic. Brought around 100 lbs of stuff on the plane with me, the rest is coming by UPS, FedEx, and even by truck!
I probably have around 2-3 months of newsletter exclusives, as well as nice stuff that I overlooked in the past, and of course the many new books that were released last week.
Since I just got back, I decided to feature a few of the items that I previously sold-out of that many have asked about.
I brought with me many Dual Split Triple Split Coin Sets that I was demonstrating throughout the convention. These sets included a free link to my download using them. I still have some left below:
►Dual Position Triple Split Coins:
There have been many versions of Triple Splits produced but most are basically the same. Until now…
What Ted Bogusta created is a magnetic system he calls Dual Position which uses specially designed and manufactured magnets that allow the magnetic coins to overlap without aligning. This system allows you to place the overlapping coins in your hands, on the table, or even in the spectators' hands.
Watch and buy: HERE
I am frequently asked about the Misindexed Bicycle Gaff sets from England. I purchased all that was available, and I understand that once these are gone, no more can be made.
►Misindexed Bicycle Gaff Pack:
You get eight gaffed cards on Red Bicycle stock. Six custom mis-indexed cards and two red/blue double-backers.
Cards include: A set of red backed KC/KS, QC/QS, JC/JS, KH/KD, QH/QD, JC/JD, and two red/blue double-backers.
I am told that these cards can be used for many of the brainwave type routines.
Get some: HERE
►BACK IN STOCK: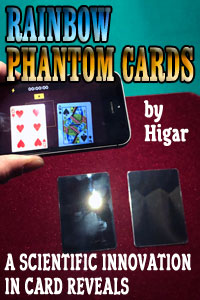 ►Rainbow Phantom Card:
This is one of the most ingenious technologies that has been applied to magic. Just received many new force cards.
My favorite versions are the Black Rainbow Phantom Card and the Mirror Rainbow Phantom Card. Both work the same way. The card is examinable, but when photographed, the photograph in the spectator's smart phone appears to have turned into the spectator's selection.
Watch and buy: HERE
►Wild Dice:
This starts out as a shell game routine using three matchboxes and a die. It quickly turns into a Cups and Balls type of routine with some impossible appearances, vanishes, and penetrations. It ends with a series of kicker endings with the production of up to nine dice.
What is unique about this routine is that it does not use any sleight of hand. The gimmicked boxes do all the work.
Watch and buy: HERE
►Thought Of Card Across:
This is a very clean and direct looking thought of card across routine where you show ten black-faced and ten red-faced cards. A spectator mentally selects any of the black cards.
Without any fancy moves, the chosen card vanishes from the pack of black cards and shows up amongst the other pack of red cards as the only black card there.
Watch and buy: HERE
►OUR NEWEST RELEASE:
►Meaningful Conjuring:
Ed Solomon, who was also known as DeNomolos, was a master storyteller who used magic to emphasize the point or moral of his stories. He wanted his magic to appeal to the intellect and touch the soul of his audiences, or as he put it: "People may not remember my name or the magic that I performed, but they will remember how it made them feel."
Between 2004 and 2015 Ed wrote 125 columns in The Linking Ring magazine that featured short stories that used simple magic to highlight their messages. All those columns are included in this book along with some bonus tricks, essays, and more.
If you ever wanted to elevate your magic from just being a series of puzzles into meaningful moments of magic, this book may inspire you to think along those lines. Remember that all good magic revolves around solid stories and premises and this book is full of both.
Watch and buy: HERE
►UPCOMING APPEARANCES:
►Sunday August 20: Performing at Comix @ Mohegan Sun Casino. Tickets: HERE
Stay happy, Meir
PS: On my flight home I was able to update the stock on many items that will be featured soon. If you were looking for something in particular that disappeared it may be worth searching for it.
"The method doesn't matter, as long as the audience doesn't know what it is."
…Nathan Kranzo (Thoughts On Performing Stand-Up Comedy Magic, 2022)