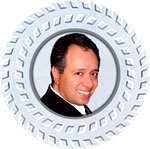 Meir's Muses
MyMagic eNewsletter #846
July 11, 2020
FIRST: I am continuing to ship your orders on a daily basis. Thank you for your continued support.
It is funny how I seem to be busier these days than usual. It might be because there are no distractions of me having to leave town for conventions and shows, which are the least profitable of my endeavors but also the most fun.

With all the extra time, I am working on a ridiculously large number of projects which will most likely be released or announced over the next few months.

Part of the Dr. Michael Rubinstein acquisition were his previously released tricks. I introduced you to his Rattle Purse a few weeks ago and this week I will introduce you to one of the routines he liked to do walkaround. It requires basic coin sleights but is within most magician's skill level.
Fusion Coins:
The basic routine involves two examinable coins made of different metals like a Quarter and a Penny. You place the Penny on top of the Quarter and after a little squeeze the penny sinks into the quarter and is fused inside. The odd new coin can then be examined.

You then give the coin a little shake and the penny falls out leaving everything examinable and ordinary.

It is available in US Quarters and Halves and includes online video instructions.

Watch and buy: HERE

Back In Stock:
►Richard Micucci's Zodiac Coin: HERE
►Juan Tamariz' The Magic Way: HERE
►Nickel Plated Swarovski Hot Rod: HERE

Ebay Auctions:
I have 27 items at auction that will expire on Sunday night. They are mostly collectible playing cards. If that interests you go: HERE

Stay safe, Meir
STRETCHING QUEEN
MORE INFO & BUY: HERE

This is a beautifully clean handling of Peter Kane's brilliant Elongated Lady effect.

You begin by removing three cards from your deck. The Queen of Hearts and the two black nines. All the cards are cleanly shown as you place the Queen face up between the two face down nines. In an eerie visual the Queen begins to stretch to one-and-a-half times its length for an impossible visual.

The Queen is then shrunk back to its normal size and all three cards are cleanly shown on both sides. The Queen can then be given out as a souvenir.
RUBINSTEIN RATTLE PURSE
MORE INFO & BUY: HERE

This is a very special coin purse that is hand-made in Italy using fine Italian leather and contains real coins inside a hidden compartment that are used to create a perfect jingling sound when the purse is shaken… even when it is empty.

The purse is used to add an audible element to your coin magic. Simple things like shaking the purse after pretending to put coins inside, solidifies the fact that the coins must be inside because you can hear them inside. The same sound can be used to prove the arrival of vanished coins before any sneaky stuff is done.
NY COIN MAGIC SEMINAR
16-VOLUME DVD SET
MORE INFO & BUY: HERE

Dr. Michael Rubinstein, David Roth, Michael Gallo, Geoff Latta and their many friends, who also happen to be the the best creators and performers of magic with coins, showcase and teach the art of coin magic.

16 volumes, 17 DVDs (+1 bonus disc), 18-performers, 250+ routines and techniques, on 36+ hours of video. The DVDs also contain bonus features, panel discussions, historical discussions, lectures, workshops, hidden bonuses, guest appearances and much more.
CATCH ME & WIN
MORE INFO & BUY: HERE

Gene Maze's fantastic chain routine combines the Fast & Loose or Endless Chain routines with the classic Three Card Monte and Three Shell Game scams. When the routine was originally published many top pros built their own sets and put it into their shows.

The object is for the spectator to pick the peg that catches. No matter how hard they try they can't find it. Even though you keep making it easier and giving them tips, they always fail. Of course, the secret lies in the fact that you have total control of whether the spectator wins or loses.