Meir's Muses
MyMagic eNewsletter #1,149
November 1, 2023
I have written many times about how much I like tricks with outs, especially when combined with other strategies. Although convincing forces are a better superpower, I feel like I am doing something real when using outs. There is a certain internal excitement when someone has a free choice, and you introduce a predetermined outcome.
I just re-stocked my favorite multiple out items and added a Blake Vogt six-way out reveal. Blake's system is easy, direct and fun to use. Having six outs is also ideal since there are many organic six, or less, item groups like bills, coins, ESP symbols, types of credit cards, fingers, etc…
Check them all out below:
►Six Outs Mini:
This is a terrific design for a six-out revelation that is large enough to be seen on stage yet fits in your pocket.
It is made from tear-proof and waterproof Tyvek. It opens up to an 8.25"x5.25" sheet of paper and folds into quarters (2.5"x4" inches). You can easily open it to any one of the six outs with the exact same handling every time.
Ask your spectators any questions having 1 in 6 outcomes and watch their minds explode when you are correct every single time!
Watch and buy: HERE
►Quiver:
This is a very powerful switching device for the close-up magician and mentalist. It is very versatile and practical. It can be used to switch, vanish or produce coins, cards, billets, keys, or just about anything that can be placed inside. You can even use it as a regular coin purse or for multiple out routines.
Watch and buy: HERE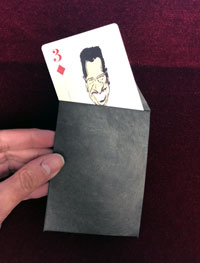 ►Number 4 Envelope:
This is an ingeniously constructed four-way-out envelope using an origami type fold that allows it to handle very cleanly and fairly.
The four compartments can be easily opened from the four sides of the envelope and each side can hold one or more playing cards.
Watch and buy: HERE
►Dean's Coin Wallet:
This is a very nicely made coin purse that Dean Dill used with his coin magic. It is a double-sided switching purse that snaps shut. It looks exactly the same on both sides so you can use it for multiple outs, switches, or just carry your coins and small props.
Get one: HERE
►Tyvek Himber Envelopes:
Basically, it is a double-sided envelope that is made to look the same on both sides. You can have predictions on each side for multiple out routines or switches. You can also use it as a coin envelope since that is what it most resembles. It is a little larger than Poker size cards.
Get one: HERE
Wanted to let you know that the introductory price of the Organic Copper Silver Brass Set will end on Sunday night.
►Organic Copper Silver Brass Set:
The classic Copper, Silver, Brass routine is one of the most popular of all gaffed coin effects because of the many combinations possible. It was originally created by Pressley Guitar, based on a routine by Connie Haden. This version was designed by Ted Bogusta.
There are many routines and sequences in print and on video. The basic routine explained in the instructions starts with a Quarter, a Centavo, and a washer in one hand. The Quarter is taken away and visually changes places with the Centavo and washer. The sequence is repeated. A third phase happens with the coins changing places with the one in your pocket. Everything is examinable at the end.
Watch and buy: HERE
►OUR PREVIOUS RELEASE:
►Quadruple Spellbound:
Originally created in the 1970s and first published in the 1980s, this was one of Simon Aronson's favorite routines, that he always carried with him and performed often.
The basic effect: You show an American half dollar. You wave your hand over it, and it changes into a Japanese coin with a hole through it. Wave your hand over the Japanese coin and it changes into a copper English penny. Wave your hand over the penny and it changes into an African coin with a hole in it. As a finale, the African coin changes back into the American half dollar.
In addition to the custom-made set of gaffed coins you also get a video tutorial with Simon Aronson performing and explaining his original handling, Meir Yedid teaching his versions of the Quadruple Spellbound, and Sol Stone teaching his Patriotic Poker Chips.
Watch and buy: HERE
►UPCOMING APPEARANCES:
►Sunday Nov 19: Spinnato's Comedy Magic Show at Comix @ Mohegan Sun Casino in CT. Tickets: HERE
To view all my upcoming appearances go: HERE
Stay happy, Meir
PS: I spent yesterday at Dorothy & Dick's Houdini Museum for their annual Houdini Séance. Unfortunately he continues to ignore us! Or maybe not?
"But there is no such thing as a piece of magic that does not require Psychology to be accomplished. It doesn't exist."
…Max Maven (Parallax, 2023)