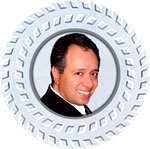 Meir's Muses
MyMagic eNewsletter #862
September 5, 2020
FIRST: I am continuing to ship your orders on a daily basis. Thank you for your continued support.
A few months ago, I introduced you to Terry Broshears hand-made color changing knives. Many of you picked up the Hot Rod Knives, and the many variations of the standard and stag knives.
All along Terry was perfecting what I think is the most interesting knife. He had the idea of making knives using taillights/break lights, so he visited a car junk yard and picked up broken taillights and crafted them into color changing knives.

In addition to being color changing knives these are excellent conversation starters when you explain that you met a master knife maker who took the taillights from your first car or parent's car and turned them into this knife that you always carry with you as a memorial.

They come in two versions and I shot a documentary style trailer that explains the differences. Extremely limited quantities.

Watch and buy: HERE
Warren Berkowitz Interview:
Last Tuesday I visited Forum Novelties and had a chance to interview Warren who is the founder and president of what is likely the largest manufacturer of magic and novelties in the world.

He started out as a magician and I am sure you will find his story interesting and inspirational.

Watch: HERE
Shelled Coins Across Routines:
The introductory price for this download expires Tuesday night.

I highly recommend it as you will learn what are likely the three best versions of a coins across routine using a shell. You will learn David Roth's Shell Coins Across, Derek Dingle's Silver Quick, and Michael Gallo's Easy Coins Across. Best of all they are being taught by the creators.

Watch and buy: HERE
EBay Sunday:
I currently have 54 items at auction on eBay that will be expiring on Sunday night. Mostly slum magic and rare decks of cards.

A direct link to the auction: HERE

Stay safe, Meir

PS: The online editions of the TAOM Convention takes place this week and the MAES Convention next week. Both are free. You should search the web for them and attend.
ESP FEELER CARDS
MORE INFO & BUY: HERE

This is a set of six ESP Symbol Cards (Rhine Cards) that have been manufactured with the "Feel A Color" principle build into them. This allows you to feel the orientation of the cards, even while they are inside envelopes.

They can be used in many ways and can reproduce routines commonly done with one-way cards… except these can be performed while you are blindfolded or with the cards behind your back.
FUSION COINS
MORE INFO & BUY: HERE

Two coins are examined by your friends (a Quarter and a Penny) as you explain the different metals they are made of.

You then place the Penny on top of the Quarter and after a little squeeze the penny sinks into the quarter and is fused inside. The odd new coin can then be examined.

You pick up the coin, give it a little shake and the penny falls out leaving everything examinable and ordinary.