Meir's Muses
MyMagic eNewsletter #924
April 25, 2021
One of magic's pillars are its secrets. We are constantly on the lookout for the next big thing or an overlooked secret that will make us stars. Of course, all the secrets in the world will not be enough.
But the pursuit for the ultimate secret is the fun part. There are many secrets and subtle touches for just about everything we do. Many of these secrets are still not well known and are shared between friends or are taught for high prices.
One such secret was Martin Nash's Infinity. It was a secret way of controlling cards in a borrowed and shuffled deck. The only way to learn the secret was to pay Martin $50 for a lesson. You also had to promise not to reveal or discuss that secret to non-purchasers.
Eventually the secret was leaked. It was an impromptu, natural, and hidden method of putting a breather-like crimp into any card you want while naturally handling the cards.
Lucky for us Jeff Hobson convinced Martin to make a video explaining his Infinity Control and a second video where he taught his methods for a tabled Faro Shuffle. Both those videos sold for a lot of money. They were eventually combined and ultimately released on a DVD that was secretly purchased, learned, and used… but not talked about… like the fight club.
Which leads us to today's video download…
►Infinity & Beyond:
Martin A. Nash was one the most popular performers to appear at the Magic Castle's Close-Up showroom. He is also considered one of the most entertaining magicians with a deck of cards. But entertainment is only half the story. Martin also created some great magic and techniques.
The two techniques he was most proud of were his Infinity Control and his Tabled Faro Shuffle. After keeping the true workings of the techniques and routines secret for many years he agreed to release them on two video tapes that were high priced at the time. Now both videos are combined into one download that can truly enhance your card magic.
Watch and buy: HERE
Got a few more of these last week, if you missed out last time, get them now.
►Get Sharky:
You explain that you are going to show something that was performed by a famous one-armed magician. To demonstrate you place your right hand in your pocket. With your left hand you hold up the deck of cards and instruct the spectator to peek at any card they like.
Without any suspicious moves you hand the deck to the spectator and nonchalantly snap your fingers. The spectator is now asked to go through the deck and find their chosen card. The spectator looks through the deck, but the card has vanished! (The deck can even be dealt onto the table, one card at a time, by the spectator… their card is not there!). You slowly remove your right hand from your pocket and show the selected card!
Watch and Buy: HERE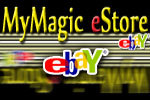 ►eBay:
I have 16 items at auction that are expiring on Sunday night that I think you might like. I started listing the rare plates and statues from the Ron Wohl gambling collection.
►Direct auction link: HERE
►MyMagic eBay Store: HERE
The Flat Dice have come and gone. More will be made, using a new process, but it may take 1-2 months. If you were one the lucky purchasers, you have an exclusive routine and "secret" to enjoy.
Stay safe, Meir
PS: The question that is often asked but never sufficiently answered is, when is a secret… no longer a secret?