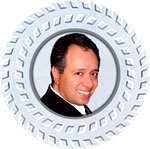 Meir's Muses
MyMagic eNewsletter #856
August 15, 2020
FIRST: I am continuing to ship your orders on a daily basis. Thank you for your continued support.
I used to often go to antique shops and shows during my travels and buy knickknacks for future use in magic. I stopped doing that while on the road when I realized I was spending any profits from the shows and lectures on stuff, instead of keeping the money to pay bills.

But for many years I used to buy unique keys at antique stores and fairs for the magical classic where you put the key on your hand and it eerily moves by itself. I really liked large rusty looking jailer keys from the old west and often carried one with me when I used to gig. Even though I almost always had one with me I don't think I performed it more than 10-20 times in my life. Don't know why. It's a killer.

If you don't feel like going out to hunt for a nice real key, the newly released Haunted Key Deluxe is a nice alternative. It looks and feels good and the weight and balance is better than most real keys.
Haunted Key Deluxe:
The Haunted Key is mysterious to watch and easy to learn and perform. It really looks like impossible magic and even feels like you are doing the real thing.

You get an old looking silver oxidized colored metal key that is well weighted for the effect. It is around 4.5-inches long and the head is around 1.25-inches wide. Also comes with an extensive video tutorial.

Watch and buy: HERE
Stag Color Changing Knives:
I just got what is likely the last shipment of these unique color changing knives. We are putting all our efforts into another knife project that is 1-2 months away. I think you will really like it.

Let me tell you about the knives I have left. They are all single blade knives with the regular knife being white. The other side is (with one exception) either Caribbean Blue Stag or a Red Stag.

The advantage of using a stag knife is that you can tell by feel when reaching into your pocket which side is up, since the Stag is rough and the white is smooth. Look at the pictures. At the moment I only have eleven sets available.

Get the knives: HERE
Even More Unique Chinese Coins:
These are all Chinese Coins in various sizes, colors, and gaffs. In most cases I only have one of each and most have been discontinued. Get it now if it interests you.
►Gold Chinese Coins With Matching Shell: HERE
►Silver Chinese Coin With Matching Shell: HERE
►White Chinese Coin With Matching Shell: HERE
►Green Two Chinese Coins With Matching Shell: HERE
►Jumbo Chinese Coins: HERE
►US Dollar Size Chinese Black/Gold Coin Set: HERE

Back in Stock:
►Symphony Coins: HERE
►Polarity Cards: HERE
Ebay:
I currently have 58 eBay auctions expiring on Sunday night. A combination of very rare slum magic (Adams in particular) and hard to find decks of cards.

A direct link to the auction: HERE

Stay safe, Meir

PS: Still can't think of a good PS. Maybe I should hire a PS writer? Is there such a thing?
ESP FEELER CARDS
MORE INFO & BUY: HERE

This is a set of six ESP Symbol Cards (Rhine Cards) that have been manufactured with the "Feel A Color" principle build into them. This allows you to feel the orientation of the cards, even while they are inside envelopes.

They can be used in many ways and can reproduce routines commonly done with one-way cards… except these can be performed while you are blindfolded or with the cards behind your back.
STRETCHING QUEEN
MORE INFO & BUY: HERE

This is a beautifully clean handling of Peter Kane's brilliant Elongated Lady effect.

You begin by removing three cards from your deck. The Queen of Hearts and the two black nines. All the cards are cleanly shown as you place the Queen face up between the two face down nines. In an eerie visual the Queen begins to stretch to one-and-a-half times its length for an impossible visual.

The Queen is then shrunk back to its normal size and all three cards are cleanly shown on both sides. The Queen can then be given out as a souvenir.
FUSION COINS
MORE INFO & BUY: HERE

Two coins are examined by your friends (a Quarter and a Penny) as you explain the different metals they are made of.

You then place the Penny on top of the Quarter and after a little squeeze the penny sinks into the quarter and is fused inside. The odd new coin can then be examined.

You pick up the coin, give it a little shake and the penny falls out leaving everything examinable and ordinary.
COLOR CHANGING KNIVES VIDEO
MORE INFO & BUY: HERE

Michael Skinner was one of the best all-around close-up magicians in the world and this video features his Color Changing Knives routine. The routine he used to entertain all the high-rollers and entertainers who regularly visited Las Vegas.

The Color Changing Knives is a classic of close-up and walk-around magic that is regularly performed by most professionals. It is visual, magical and uses ordinary looking objects.

Michael Skinner's pet routine with the knives is quick and full of surprises. In addition to the full routine you will also learn The Paddle Move, The Swivel Change, and The Touch Change.