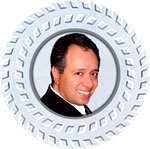 Meir's Muses
MyMagic eNewsletter #806
February 1, 2020
I have been avoiding offering any more magic themed T-Shirts because even though it appears as a single item it is actually six items because I have to stock all the sizes.

My friend Harvey Leeds has been obsessed with making a Glorpy T-Shirt. If you are not familiar with Glorpy it is an iconic trick where a handkerchief seems to come to life. What makes it an interesting shirt is the weird name and even stranger graphic. Take a look: HERE.

So, what to do? Harvey hooked me up with the company that handles the merchandise for all the groups and bands he manages, and they agreed to make the shirts, stock them and even ship them to you. They think they are going to get rich off of us… shhhhh!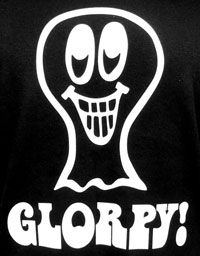 Glorpy is an iconic trick that many magicians who got into magic in the 1960s-1980s remember as one of the first tricks they purchased at a magic shop. It was created and marketed by Madblood Creations (Bill Madden & Bernie Trueblood).

The striking image and name are part of magic history and it is now available as a T-Shirt. It seems to get attention with people asking what it means. A great conversation piece. Available in S, M, L, XL, 2XL, and 3XL.

Get one: HERE.
You may remember that last summer I celebrated the 40th Anniversary of MyMagic. The very first trick I marketed was in the summer of 1979. It was originally released by Tannen's using Bridge-size cards and sold for $3. They later gave it back to me and around 1980 I repackaged it and put it out with Poker-size cards.

It was before double-back cards were available, so I learned how to split cards and make my own. I even had Derek Dingle's press at my home for many years as I made hundreds of Tally-Ho Circle double backers and sold the set for $5.

Years later when Bicycle gaffed cards became available I repackaged and raised the price to $10. It has stayed the same for more than a quarter century.

My intention was to shoot a video trailer of the trick last year but never got a chance. I did close all my Showcases with it throughout the year and it was a regular feature during my shows at the Magic Towne House in NYC when I was a child. Funny thing is that it was considered "easy" when I first put it out and now it is considered "advanced!"

Watch the trailer: HERE.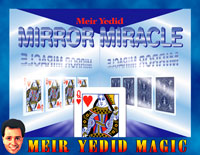 Mirror Miracle:
This is a quick routine using four cards that appear to be all the same, then magically transform to look the same on both sides and finally all four cards are shown to have mirror faces–It's all done with mirrors–Of course.

Includes a relaxed, humorous presentation and can be performed with a freely selected and signed card.

Watch and buy: HERE.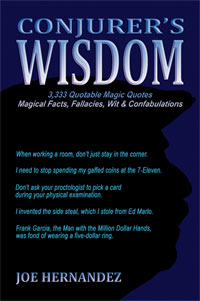 Conjurer's Wisdom:
Joe Hernandez' book Conjurer's Wisdom has been getting excellent reviews, the most recent in MUM, and has been continuously selling-out.

Joe just dropped off a bunch of autographed copies and I have them available. It is a fun and inspirational read.

Get a copy: HERE.
I should also mention that I picked up a few more of the Origamagic White Cranes. If you were looking for them… Get one: HERE.

My Gambler's Ways advanced card routine download will remain on sale until Tuesday night. If you were thinking about it get it now, get it: HERE.

Until next time, Meir
Upcoming Live Appearances:
►Feb 22-25: Attending the New York Toy Fair in New York City.
►Feb 23: Attending the annual Inventor's Party in New York City.
►Mar 29: Lecturing at Mingus Magic in Reading, PA. Info: HERE.
►Apr 5: Exhibiting at the Real Magic Roadshow in Boston, MA. Info: HERE.
MAGICIAN BADGE
MORE INFO & BUY: HERE

This is a real Magician Badge that was fashioned on the badges used by law enforcement agencies around the world. It adds a level credibility to magicians while at the same time adding humor to your introductions. It is a great icebreaker.

The next time you walk up to strangers you can pull out the badge as you say your name and title of Magician. It causes a moment of panic followed by relief and laughter.
PING PONG BALL VASE
MORE INFO & BUY: HERE

A beautiful hand spun Ping Pong Ball Vase made of a single piece of exotic wood. It comes with a Ping Pong ball and a matching shell (ball vase type).

This is one of the few Ball Vases that uses a recognizable object, or what is termed an organic prop. Since the popularity of Beer Pong, that uses the same balls, has far surpassed the popularity of Table Tennis this has become a very common object.
CATCH ME & WIN
MORE INFO & BUY: HERE

Gene Maze's fantastic chain routine combines the Fast & Loose or Endless Chain routines with the classic Three Card Monte and Three Shell Game scams.

The basic routine starts out with a wooden stand holding three pegs or posts. A chain is then wrapped around all the pegs as you explain that when the chain is pulled one peg will always catch while the other two will not. If they pick the peg that catches, they win.

No matter how hard they try they can't find it. Even though you keep making it easier and giving them tips, they always fail or win. You have total control.
HOW TO MAKE MONEY BY MAGIC
PAPERBACK INFO & BUY: HERE
HARDCOVER INFO & BUY: HERE

Paul Daniels was the highest paid and most successful magician in the world. He started out with nothing and slowly clawed his way up to be a household name in Great Britain and much of the English-speaking world.

His success was not an accident or random luck, it required a lot of study and application of solid principles and strategies that created opportunities. Once the opportunities were recognized, a lot of hard work went into exploiting them, which led to his ultimate success.

He teamed up with marketing guru Andrew Lock to produce a twelve-part course that taught how to become successful in magic. That course is now available in book form.