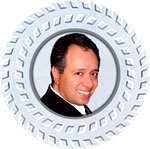 Meir's Muses
MyMagic eNewsletter #865
September 19, 2020
FIRST: I am continuing to ship your orders on a daily basis. Thank you for your continued support.
The second the pandemic became widely reported on and restrictions began unfolding, most close-up magicians also began lamenting on social media that sponge ball magic, as we know it, has just come to an end.

Well, today's sponge ball release requires no interaction. Last year I introduced you to the 3-inch Sponge Ball Vases and they sold out within a week.

Today we will look at the 2-inch version. Although not as large, it is much more versatile because you can incorporate most sponge ball sleights with the Vase, since the smaller balls are much easier to handle.
As before, these are beautiful, they are hand-spun by artisans in the Cambodian Jungle using exotic woods and gas-powered generators. Each one is a little different in size, tint, texture, and finish.

They are available in two varieties. A Tall Top and a Short Top. One is a piece of art while the other is more of a worker.

Take a look: HERE
Sponge Ball Vases:
These beautiful Ball Vases are hand-spun using a single piece of exotic wood. Each set includes one Sponge Ball Vase, a shell, and a 2" sponge ball. There are two varieties available:

►Tall Top Sponge Ball Vase:
This is beautiful. The lid has a finely spun ornamental handle that makes it look like a very expensive item you would find in a curio cabinet or museum. The overall size is around 6.5-inches high and 2.75-inches wide.

►Short Top Sponge Ball Vase:
This version is not as exotic but also not as delicate. It is more suitable for repeated use and will survive being accidentally dropped. The overall size is 5-inches high and 2.75-inches wide.

Watch and buy: HERE
EBay Sunday:
I currently have 53 items at auction on eBay that will be expiring on Sunday night. Mostly slum magic, rare decks of cards and a very rare Ricky Jay autographed Playbill that is already up to around $500.

A direct link to the auction: HERE

Stay safe, Meir
PS: I am now in the final stages of a gigantic release that I hope to offer you next weekend… It is a comedy stand-up routine… for when stages are back in style.
CARD SILK SET
MORE INFO & BUY: HERE

There are many routines published, recorded, and marketed using card silks. A card silk is a silk scarf with a picture of a playing card on it.

Of the many published routines, the most engaging are the ones that use two silks. One with a blank card pictured and one with a playing card.

Our silk set which is ideal for Thumb Tip use includes two 9-inch silks: A full-color blank card and a full-color King of Hearts card.
ESP FEELER CARDS
MORE INFO & BUY: HERE

This is a set of six ESP Symbol Cards (Rhine Cards) that have been manufactured with the "Feel A Color" principle build into them. This allows you to feel the orientation of the cards, even while they are inside envelopes.

They can be used in many ways and can reproduce routines commonly done with one-way cards… except these can be performed while you are blindfolded or with the cards behind your back.