Meir's Muses
MyMagic eNewsletter #1,044
September 21, 2022
A couple of weeks ago during the 3-hour Zoom event I did, I was joined by my friend Avner "The Eccentric" Eisenberg and it prompted me to mention what I learned from watching and hanging out with him a million years ago.
His timing and rhythm was unique and enlightening to me, it simulated waves of emotion with disappointments and triumphs. He took you on a rollercoaster ride of laughter that was full of highs and lows.
I generally describe my performance style as aggressive-passive with a touch of sarcasm so I am always looking for routines which seem to disappoint but end in triumph.
The routine below has that built in scenario.
►Diamond Cutter:
A card selected and lost in the deck. You snap your fingers and triumphantly reveal… the wrong card!
It's the five of diamonds, though the chosen card was the three of diamonds… so close!
To fix the situation, you tear off the bottom two diamonds leaving three diamonds on the torn card, but the index, of course, remains a five.
Then, in an impossible moment, you rub the index of the card, and the five transforms into a three, leaving the torn card with the correct index and number of pips even though the complete face was shown as a five just a moment ago. Everything is examinable.
Watch and buy: HERE
►Quiver:
Kelvin Chow has designed one of the best and cleverest switching coin purses. It functions the same way as the classic change bag. What makes it special is that it can be handed to a spectator to open and they will always open it to the main compartment. You will be the only one who can open it to the secret compartment.
It is a very powerful switching device for the close-up magician and mentalist. It is very versatile and practical. It can be used to switch, vanish or produce coins, cards, billets, keys, or just about anything that can be placed inside. You can even use it as a regular coin purse.
Watch and buy: HERE
BACK IN STOCK: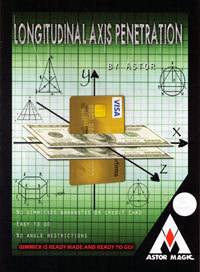 ►Longitudinal Axis Penetration:
Now comes with an exclusive video tutorial.
Show a clear plastic case that can hold two US bills (any denomination and they can even be borrowed). You place the two bills side by side and then fold the case in half. Once folded the bills are seen overlapping as you point out a slit on both sides. Using a borrowed credit card, or your own, you can now visually push that card right through both bills apparently ripping them. But when the bills are removed from the case, they are undamaged. And best of all… everything is examinable before and after the performance.
Watch and buy: HERE
Stay happy, Meir
PS: Did you notice that I started putting magic quotes at the end of each newsletter?
"Real sleight-of-hand skill can give a performer a tremendous advantage when working for lay people if he knows how to exploit it." …Darwin Ortiz (Gene Maze And The Art Of Bottom Dealing, 1994)