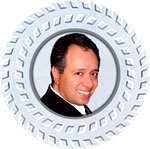 Meir's Muses
MyMagic eNewsletter #804
January 25, 2020
Had a wonderful week in Las Vegas. It started with my performance at Jeff McBride's Wonderground which had well over a hundred magicians in the audience and many were surprised at my performance since it is not the material, they have seen me do at magic conventions. For me is was basically a ten-hour party that didn't end till after 3am!

Then off to the SAM Convention with around 600 of my friends (facebook friends count as friends… right?). Highlights for me were the Mac King roast and the final magic of China show. Act wise the highlights were Nick Diffatte, Ding Yang, and Harrison Greenbaum.

Managed to negotiate some amazing deals that I will be sharing with you over the next few weeks. Especially one that I wanted for around three years.  I will be shooting a download video with three of the routines that I came up with for this unique prop.

The week came to a perfect end, one that has almost become a tradition during my Vegas trips, breakfast with Steve Forte.
Deadly Marked Deck:
I also got to meet Anthony from Magic World and he agreed to let me carry a marked deck of cards he is manufacturing that I have never seen before.

The markings are invisible and cannot be seen at any distance… but they can be felt with your fingers.

Kind of like brail or peg work but it is actually an ink that is applied through a card press. Crazy amount of time and work to make each deck. With it you will be able to figure out the value and suit of every single card by rubbing your thumb across the back. I like it.

Since they are printed on Bicycle cards you can add a few cards to any standard deck and do any of the routines that are usually done using card punches except that the cards will not be punched and will have no visible indentations.

Get one: HERE.

Was also able to get these two items you might like:
Clear Queen:
This is a clear piece of plastic that that has been laser cut in the shape of a Poker-size, deck of cards. It was then decorated with a full color Queen of Hearts.

Although you can use it as a novelty or paper weight you can also use it for magic. An interesting thing is that if you place it over a blank card it looks like you placed a piece of clear plastic over a Queen.

Get one: HERE.
Misindexed Gaff Set:
You get fourteen mis-indexed gaffed cards that have been printed on blank Bicycle stock.

Cards include: A red back and a blue back set of KC/KS, QC/QS, JC/JS, KH/KD, QH/QD, JC/JD, and two Red/Blue double backers.

Get one: HERE.
Scoop:
Later today I will be sharing a video interview, an update, and a link to the most anticipated set of card magic books. They will likely be the most influential and important books on sleight-of-hand card magic and are sure to advance the art. I can't wait…

The info will appear on my company facebook page (HERE) which can be viewed by everyone and my personal page (HERE) which can only be viewed by facebook members… which is now most of the planet. Please watch, like, and share.

Until next time, Meir
Upcoming Live Appearances:
►Feb 22-25: Attending the New York Toy Fair and the Inventor's Party in New York City.
►Apr 5: Exhibiting at the Real Magic Roadshow in Boston, MA. Info: HERE.
MAGICIAN BADGE
MORE INFO & BUY: HERE

This is a real Magician Badge that was fashioned on the badges used by law enforcement agencies around the world. It adds a level credibility to magicians while at the same time adding humor to your introductions. It is a great icebreaker.

The next time you walk up to strangers you can pull out the badge as you say your name and title of Magician. It causes a moment of panic followed by relief and laughter.

This badge was designed and manufactured from scratch. The amount of magical detail is incredible. If you look closely you will see Doves, Cups & Balls, Magic Wands, Playing Cards, Japanese Coins, and even two different reveals you can incorporate into your routines.
CATCH ME & WIN
MORE INFO & BUY: HERE

Gene Maze's fantastic chain routine combines the Fast & Loose or Endless Chain routines with the classic Three Card Monte and Three Shell Game scams.

The basic routine starts out with a wooden stand holding three pegs or posts. A chain is then wrapped around all the pegs as you explain that when the chain is pulled one peg will always catch while the other two will not. If they pick the peg that catches, they win.

No matter how hard they try they can't find it. Even though you keep making it easier and giving them tips, they always fail. The secret lies in the fact that you have total control of whether the spectator wins or loses so you can present the routine anyway you like.