Meir's Muses
MyMagic eNewsletter #1,095
April 5, 2023
A Color Changing Screwdriver? We will get back to that in a moment.
Even before pocketknives started becoming weapons, magicians already had many non-lethal versions of color changing knives that they could sell to kids. They were made of plastic, they were non-opening, used objects in the shape of knives, and dozens of other variants.
Terry Broshears who introduced us to Taillight and Venue Approved knives had the idea of a color changing screwdriver.
We are calling it that and you can use it as that, but in reality these are Knife Picks that are used to open pocket knives instead of using your nails. They are also popular tools used as paperclip removers, paper scorers, and more.
Terry also added some of the features we have been discussing lately. One side is a bone stag finish so you can feel for it in your pocket and the other side glows in the dark.
►Color Changing Screwdriver:
This is a variant color changing knives set, except that instead of using knives it uses something that looks like a knife but has no blades. It is known as a knife pick.
These were custom made with a brown Bone Stag on one side (so you can feel the sides) and a special glow-in-the-dark lime green plastic material. If you shine a bright light on it for around 15 seconds, then take it to a dark place it will glow.
Get one: HERE
►Scents Of Wonder:
Although there are many different types of routines that these special flower cards can be used for, the main routine revolves around a prediction.
You begin by writing a prediction on a paper napkin and leaving it in full view. You then show a stack of business sized cards with pictures of different types of flowers on them and have one selected in a very fair manner.
When the selected card is turned over it is seen to be a rose. You then reveal that what you wrote on the napkin was rose. But that is not all. You can proceed to twist the napkin into an origami rose, offer it as a gift and even point out that it smells like a rose. Satisfying most of the senses and giving your spectator a gift.
Watch and buy: HERE
►BACK IN STOCK:
►Rainbow Phantom Cards:
Received a bunch of new force cards. Take a look: HERE
►Card Of Destiny:
Received a few more of these: HERE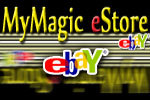 ►New eBay Auctions:
Just added more than a hundred items to my eBay store. The auctions feature many rare magic books and tricks. Of special interest will be some very rare Tenyo items from the 1980s and many autographed lecture notes. The auctions will all expire on Easter Sunday which likely means that there will be very few bidders and some bargains.
Direct link to my eBay auctions: HERE
Direct link to my eBay store: HERE
►UPCOMING APPEARANCES:
►April 26-29, Displaying at the FFFF Convention in Buffalo, New York.
►April 30, Displaying at the MAWNY Convention in Buffalo, New York. Info: HERE
Stay happy, Meir
PS: My monthly show at Comix on Sunday was cancelled due to the holiday, so I will have time to add a ton of more items to my eBay auction and store. There will be lots of bargains.
"Passion does not guarantee success – it makes success possible. The dream and the drive passion brings must be realized the old fashioned way, through persistence and effort, trying and failing, watching and learning through our own efforts. There are no short cuts."
…Max Howard (The Magic Of Thinking Creatively, 2003)