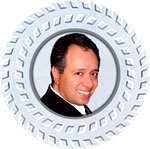 Meir's Muses
MyMagic eNewsletter #883
November 28, 2020
As I mentioned previously, earlier this year, I purchased the rights to several of Dr. Michael Rubinstein's magic products. Today I am releasing the second to last item. This is a limited-edition routine that is very clever. It is a coin routine that uses coins in a new and unique way. If you purchased his book (HERE) you can read all about it on page 303.
Smileys:
You start by explaining that there is an old expression that "people wear their emotions on their sleeve", but magicians wear their emotions on their coins!

You draw a sad face on the face of a half dollar and then… to make the coin feel better you tickle the coin, and it begins smiling when the sad face changes to a happy one! Another tickle, and the coin changes to a yellow smiley face! One last tickle, and the smiley face becomes a big smiley face, bringing a big smile to everyone. Includes gaffs so you can do the routine with US Kennedy Halves and US Quarters.

Watch and buy: HERE
Michael Rubinstein's Videos:
I previously released Michael's Creative Coin Magic and More Creative Coin Magic videos as downloads. They were basically his live lectures from 1986 and 2004.

I decided to combine them into a single purchase for anyone who missed out on the individual vidoes.

Buy the combo: HERE
Magic Collectors Corner:
David Sandy and Lance Rich have been running an excellent weekly video show on Zoom and Facebook for the past 32 weeks. Tomorrow at 5pm Eastern Time will be the final episode of the year.

I will be playing a small part, but I highly recommend you plan to see it. I am not at liberty to explain why but I can promise you that you will be able to virtually experience something that you will likely never have the opportunity to do live.

The easiest way is to join the "Magic Collectors Corner" Facebook group page. Do it as soon as possible so they can approve you. Then show up at the page at 5pm (NY Time) and watch the live event.

A direct link to the facebook page: HERE
A MagicTimes Exclusive:
Last week I featured the Houdini Wand Ceremony on Magic Times. I decided to give you one more exclusive Houdini feature. In 2006 I interviewed Tony Spina about his friend Amedeo who was Houdini's front man and fixer. Tony shared some interesting stories that you probably never heard or read before.

Watch it: HERE

Stay safe, Meir

PS: Next Saturday I will introduce another exclusive product that will be added to my line. I will only have 17 of them for sale until I am able to have more made next year.
GIGANTIC COMEDY PREDICTION
MORE INFO & BUY: HERE

This is an ideal stand-up routine with intrinsic situational comedy. Even if you are not a comedian the situational comedy that is built into the routine will always get you laughs. But not just laughs… The magic is strong and there is even a duel reality ending where the spectator and the audience experience two different effects and both are impactful!
ESP FEELER CARDS
MORE INFO & BUY: HERE

This is a set of six ESP Symbol Cards (Rhine Cards) that have been manufactured with the "Feel A Color" principle build into them. This allows you to feel the orientation of the cards, even while they are inside envelopes.

They can be used in many ways and can reproduce routines commonly done with one-way cards… except these can be performed while you are blindfolded or with the cards behind your back.