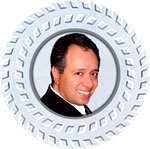 Meir's Muses
MyMagic eNewsletter #851
July 29, 2020
FIRST: I am continuing to ship your orders on a daily basis. Thank you for your continued support.
If you attended any of my Zoom lectures you would remember that I closed them by teaching my Bubble Palm and my Spring Palm. At many of the lectures I also mentioned that I was working out a revelation where the selected card would end up bolted to a piece of wood or plastic using a magnetic system. It was based on a trick Tannen's used to sell with a nail impaling a card on a square block of wood.

Since then a very impressive looking prop was put out on the market where you can load a palmed card between two pieces of bolted plexiglass.
It is not what I envisioned but it is very functional. Not sure their premise is believable but was thinking that it is ideal if you said that you sealed your favorite card between the glass, and it turns out to be a duplicate of their selection. The easiest way to do that (without a force) is to use Burling Hull's Mene-Tekel deck.

I also think that this would be great for a confabulation type routine where the information is written on the back of your business card.

It is also perfect for a signed card to impossible location and it seems to fit perfectly into a routine I do in my full-evening close-up show… if I ever get a chance to do it again.

Watch and buy: HERE
Rubinstein Coin Magic:
Michael Rubinstein's new book's first printing sold-out before it was even officially released, is back. The second printing is expected to arrive at the distributor's warehouse tomorrow and they will begin shipping immediately.

As before, the distributor agreed to drop-ship these books directly to you. Anywhere in the world.

The book has been getting great reviews from the original purchasers and now you can get your copy as well… Before it sells-out again!

Get the book: HERE
Wanted to also mention that my previous Rubinstein releases are also discussed and explained in the book:

►Rubinstein Rattle Purse (pages 87, 91): HERE
►Fusion Coins (page 307): HERE
►New York Coin Magic Seminar DVD Set (many of the items in the book are performed and taught): HERE
Wish Printer:
This popular and hard to get item is back in stock. I understand that I may have cornered the market on them for now and it will be several months before they come back to the US.

It is an electronic, oversized money maker that I really like.

Take a look: HERE

Also, Back In Stock:
►Zodiac Coin: HERE
Ebay:
I have many eBay auctions expiring on Sunday night. Most of this stuff is more than 50 years old and all the slum magic came from Danny Tsukalas' Magic Counter at Macy's in NYC. I also added some rare decks of cards.

►A direct link to the 73 auction items: HERE
►Visit the entire MyMagic eBay store: HERE

Stay safe, Meir

PS: If you missed my lecture, the final one is archived on the SAM's website under the Virtual Assembly tab.
FUSION COINS
MORE INFO & BUY: HERE

Two coins are examined by your friends (a Quarter and a Penny) as you explain the different metals they are made of.

You then place the Penny on top of the Quarter and after a little squeeze the penny sinks into the quarter and is fused inside. The odd new coin can then be examined.

You pick up the coin, give it a little shake and the penny falls out leaving everything examinable and ordinary.
STRETCHING QUEEN
MORE INFO & BUY: HERE

This is a beautifully clean handling of Peter Kane's brilliant Elongated Lady effect.

You begin by removing three cards from your deck. The Queen of Hearts and the two black nines. All the cards are cleanly shown as you place the Queen face up between the two face down nines. In an eerie visual the Queen begins to stretch to one-and-a-half times its length for an impossible visual.

The Queen is then shrunk back to its normal size and all three cards are cleanly shown on both sides. The Queen can then be given out as a souvenir.
RUBINSTEIN RATTLE PURSE
MORE INFO & BUY: HERE

This is a very special coin purse that is hand-made in Italy using fine Italian leather and contains real coins inside a hidden compartment that are used to create a perfect jingling sound when the purse is shaken… even when it is empty.

The purse is used to add an audible element to your coin magic. Simple things like shaking the purse after pretending to put coins inside, solidifies the fact that the coins must be inside because you can hear them inside. The same sound can be used to prove the arrival of vanished coins before any sneaky stuff is done.
NY COIN MAGIC SEMINAR 16-VOLUME DVD SET
MORE INFO & BUY: HERE

Dr. Michael Rubinstein, David Roth, Michael Gallo, Geoff Latta and their many friends, who also happen to be the the best creators and performers of magic with coins, showcase and teach the art of coin magic.

16 volumes, 17 DVDs (+1 bonus disc), 18-performers, 250+ routines and techniques, on 36+ hours of video. The DVDs also contain bonus features, panel discussions, historical discussions, lectures, workshops, hidden bonuses, guest appearances and much more.