Meir's Muses
MyMagic eNewsletter #1,029
July 27, 2022
I have sold a disproportional number of Astor's Longitudinal Axis Penetration lately, even though I originally introduced it to you more than five years ago. But this time around I got a few questions on what's the best way to do it. Instead of answering everyone individually I asked Astor to make us a video tutorial. This tutorial is an exclusive for all who purchase it from us.
If you purchased this from us in the past, the tutorial is now in your MyMagic account, and you can download it now.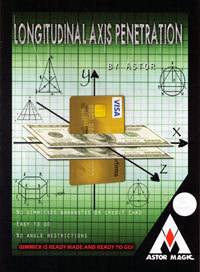 ►Longitudinal Axis Penetration:
Show a clear plastic case that can hold two US bills (any denomination and they can even be borrowed). You place the two bills side by side and then fold the case in half. Once folded the bills are seen overlapping as you point out a slit on both sides.
Using a borrowed credit card, or your own, you can now visually push that card right through both bills apparently ripping them. But when the bills are removed from the case, they are undamaged. And best of all… everything is examinable before and after the performance.
Watch and buy: HERE
I had a great time at the Mohegan Sun Casino last Sunday in Jim Spinnato's Stand-Up Comedy Magic Show. Tried out some new stuff that worked well and am planning on keeping everything in the show, so now is the time to fine tune it. Check out the action photo by Peter Haddad. I will be back there in two weeks, on August 7, maybe some of my friends can make it. Tickets: HERE
For a listing of all my upcoming shows and events go: HERE
Received a bunch of the stuff that sold-out and some of it already sold out, again. I am very happy that so many of you are now using the notifications feature on the website.
But I do have a few of each of the following left if you want to grab some:
►Cheating At Texas Hold'Em:
A fascinating and educational book by magician John Born subtitled, "A Modern Guide to the Art of Deception and Illicit Play at the Card Table," is full of all of the latest gimmicks and techniques used to cheat at cards and Texas Hold'em in particular.
Along with all of the classic methods which are presented in a modern context you will find many new approaches and ideas developed by Born and some of the people he knows. What makes this book stand out from many of the rest is that it was written in a manner that even the most uninformed card player and magician will be able to understand.
Get a copy: HERE
►Other Stuff:
►AwSum: HERE
►Gambler's Ring (All sizes in stock): HERE
Stay happy, Meir
PS: It's official. The next FISM will be held in Italy in 2025.