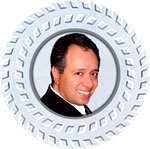 Meir's Muses
MyMagic eNewsletter #848
July 18, 2020
FIRST: I am continuing to ship your orders on a daily basis. Thank you for your continued support.
You may remember that I collect Money Makers. I have written about it before and even displayed part of the collection during my recent appearance on Franz Harrary's show.

When Herb Zarrow found out I collect Money Makers he told me about a trick he came up with when he was a kid. He didn't use it to print money. He used it to print predictions like the old slate tricks. So, you would force a card or an image and reveal it.

I also remember someone telling me to use it for a color changing tie, could have also been Herb's idea… not sure. Basically, the tie you are wearing is put through, as it comes out it is a different color. You only do that for around 3-4 inches and go back. Just realized it can also be used as a shredder.
So, I am always on the lookout for new types and methods of Money Makers. The following is the first major innovation I have seen. Technology has finally caught up with this classic.

Electronic Money Maker:
It is called a Wish Printer and is charged by plugging it into an electric wall socket. The rollers turn mechanically by pressing one of two buttons. One button turns the rollers forward and the other backwards, allowing to load and unload whatever you like.

Take a look at the trailer to see how nice it is. It is also large enough to use on stage and print messages relating to whomever you are working for.

Watch and buy: HERE
Quiver:
I was able to get a shipment of the very popular and useful Quiver purses that can switch anything that fits inside them. If you are not familiar with it look at the trailer.

I really like this and have used it in my close-up shows when I perform my KFC routine. I was only able to get the original size not the larger Quiver+ size.

Watch and buy: HERE
Capitulating & Stretching Queens Routine:
A few weeks ago, Gary Plants messaged me suggesting I combine James Swain's Capitulating Queens and the Stretching Queen. He felt that not only could you use the Queen from Capitulating for the Stretching it also put all the heat on the examinable Queen.

It is also visually more satisfying because the Queen now has a green back and the contrast is made logical and great.

Shot a video of the combined routine. Which will be the way I perform them from now on. Everything fits into a regular deck and is always ready to go.

Take a look: HERE

►Get Capitulating Queens: HERE
►Get Stretching Queen: HERE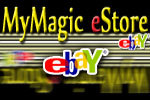 Slum Magic:
My 66 eBay auctions expire on Sunday night. Have been getting an above average number of bids. I guess I am not the only one who enjoys slum magic. A lot of original Adams products. Before they became S.S. Adams.

►A direct link to the auction items: HERE
►Visit the entire MyMagic eBay store: HERE

Stay safe, Meir
FUSION COINS
MORE INFO & BUY: HERE

Two coins are examined by your friends (a Quarter and a Penny) as you explain the different metals they are made of.

You then place the Penny on top of the Quarter and after a little squeeze the penny sinks into the quarter and is fused inside. The odd new coin can then be examined.

You pick up the coin, give it a little shake and the penny falls out leaving everything examinable and ordinary.
STRETCHING QUEEN
MORE INFO & BUY: HERE

This is a beautifully clean handling of Peter Kane's brilliant Elongated Lady effect.

You begin by removing three cards from your deck. The Queen of Hearts and the two black nines. All the cards are cleanly shown as you place the Queen face up between the two face down nines. In an eerie visual the Queen begins to stretch to one-and-a-half times its length for an impossible visual.

The Queen is then shrunk back to its normal size and all three cards are cleanly shown on both sides. The Queen can then be given out as a souvenir.
RUBINSTEIN RATTLE PURSE
MORE INFO & BUY: HERE

This is a very special coin purse that is hand-made in Italy using fine Italian leather and contains real coins inside a hidden compartment that are used to create a perfect jingling sound when the purse is shaken… even when it is empty.

The purse is used to add an audible element to your coin magic. Simple things like shaking the purse after pretending to put coins inside, solidifies the fact that the coins must be inside because you can hear them inside. The same sound can be used to prove the arrival of vanished coins before any sneaky stuff is done.
NY COIN MAGIC SEMINAR
16-VOLUME DVD SET
MORE INFO & BUY: HERE

Dr. Michael Rubinstein, David Roth, Michael Gallo, Geoff Latta and their many friends, who also happen to be the the best creators and performers of magic with coins, showcase and teach the art of coin magic.

16 volumes, 17 DVDs (+1 bonus disc), 18-performers, 250+ routines and techniques, on 36+ hours of video. The DVDs also contain bonus features, panel discussions, historical discussions, lectures, workshops, hidden bonuses, guest appearances and much more.