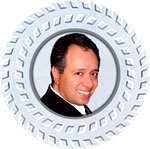 Meir's Muses
MyMagic eNewsletter #893
January 5, 2021
A few years ago, I decided to introduce you to what is likely one of the greatest illusions. It was invented by Moritz Heinrich Böninger and patented in 1932. It was released under many different designs and names by different toy companies since that time.

After making a video trailer for the Zanadu Pirate edition (which went viral on multiple platforms) it ended up being one of my biggest selling products. Too bad it was so inexpensive.

Today I am introducing you to the latest incarnation with an Alien theme. I made a new trailer for it with some more information: HERE
Alien Magic Sword Optical Illusion:
The Alien Magic Sword Optical Illusion is the latest version of a classic illusion where a sword amazingly penetrates a solid object. It can be repeated many times and will still fool you.

It creates an impossible illusion of a knife repeatedly penetrating through a toothpick or any such object. It is truly a mind-boggling illusion that seems impossible even after you know how it works.

Watch and buy: HERE

And the good news is that the outer casing is identical to the previous version and will fit perfectly into the ProCase we released and sold-out a while ago.

Shadow & Shake:
Sold out of these last week within hours but I am getting another autographed shipment in the next week or so. If you don't want to miss out on these please sign up for notifications: HERE

Stay safe, Meir

PS: Take a look at an embarrassingly young Meir Yedid performing the routine he used to open his act with: HERE
CARD PEGGERS
MORE INFO & BUY: HERE

This is a precision-made card pegger also known as a card punch that is based on the Dr. X design. A card punch is used to mark cards by adding invisible blisters to them (like braille) so you can find the cards you marked by feel.

These tiny peggers are secret weapons used by card cheaters to mark cards during play by attaching them to their fingers or thumb and putting in the work while handling the cards. Watch the video trailer for some interesting applications.
GIGANTIC COMEDY PREDICTION
MORE INFO & BUY: HERE

This is an ideal stand-up routine with intrinsic situational comedy. Even if you are not a comedian the situational comedy that is built into the routine will always get you laughs. But not just laughs… The magic is strong and there is even a duel reality ending where the spectator and the audience experience two different effects and both are impactful!